Nwankwo Kanu Excites Fans In New Movie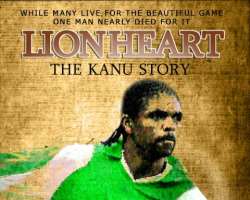 Nwankwo Kanu, the man at the centre of the movie titled 'Lion Heart: The Kanu Story', has expressed his desire to include a reward system in the movie project for ball fans. Kanu, who expressed this desire at the unveiling of the first promotional poster for the movie during the week, explained his motive for such gestures. "My life story will be incomplete if I do not involve the fans who truly love me.
"Imagine those fans who approach me each time at the airport just to take a photograph with me; imagine how many homes have framed my pictures either while playing football or just walking down the street. To me, this is love, and I must show them I love them too. This movie project will not be complete without rewarding some of such people," observed the Super Eagles and Portsmouth of England forward.
Lion Heart, which is currently being filmed in Nigeria, London, Amsterdam, the USA, South Africa and India, is slated for global premiere in September this year.
It is a documentary feature that chronicles Kanu's inspiring rags to riches story from a unique perspective that delves into his journey into the world of soccer from his humble beginnings in Owerri, his struggle with a near-fatal heart condition at the peak of his football career and the heart surgery in Cleveland, Ohio. His tribulations and triumph at Arsenal, Ajax, Portsmouth and other big clubs in Europe are all well captured in this classic movie.
Neil Oyenekan, the producer of the movie, has assured that these fans would be part of the movie, pointing out "a great story is told from several perspectives and including the fans in the story of an African icon is a great idea".
He added that besides getting the views of the regulars who may have had a personal or professional relationship with Kanu, it is quintessential to also document the pictorial experiences of those individuals who recognize and idolize Kanu without knowing what kind of person he is at close quarters; "we'd like to unravel the motive behind this adulation and know what the fans are thinking because you really have to admire someone before you walk up to him to request for a photo opportunity", he noted.
Oyenekan hinted that there are fans who have taken more than a dozen photographs with Kanu over the years "and we would just like to see these pictures and also get more perspectives from the fans that had these pictures taken".
James Amuta, the movie's promoter, in a statement in Lagos, gave insights into the modalities for participating in the first of a series of fun-filled activities designed to reward the Kanu fans.