Piracy: Tony Onwujekwe's fate up in the air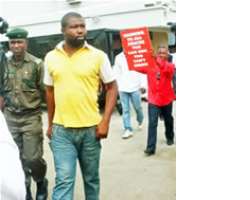 On Wednesday, April 15, a number of stakeholders in the entertainment industry besieged the Federal High Court Annex, Ikoyi, Lagos State to witness the trial of Mr. Tony Onwujekwe, alias Alaba King of Pirates.
Some of the notable names present were Chief Tony Okoroji, Mr. Toju Ejueyitchie, Hon. John Ewelukwa Udegbunam, Mr. Joel Ajayi, Mr. Laolu Akin and Mr. Chinedu Chukwuji.
When the case was finally called, there was palpable disappointment in the court.
Despite the presence of the accused, the defence counsel, Chief Theodore A. Ezeobi (SAN) was not available, thereby necessitating the adjournment of the case to Thursday, April 29.
Reacting to the development, Chief Tony Okoroji, the Chairman, Copyright Society of Nigeria, said, "They can run, but they can't hide. We have decided to give this case 'close marking' to ensure that the matter is diligently prosecuted and there is no miscarriage of justice. If somebody thinks that we will get tired as a result of whatever tricks they may bring, then, they don't know us.
We are resolved to pursue this matter to its logical conclusion and re-establish the fact that this nation will not be taken over by criminals. I have no doubt that Nigerian artistes will prevail in this matter and celebrate at the end."
Mr. Tony Onwujekwe is charged with the piracy of thousands of copies of the albums of various Nigerian artistes including 2-Face Idibia, P Square, African China, X Project, Bracket, Plantation Boyz and Buchi.