I HAVE HAD SEX AFTER MY MARRIAGE BROKE-UP- SINGER, GLORIA DOYLE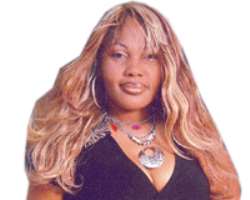 In the eyes of some people, Gloria Doyle is one of the controversial artistes in Nigeria. Reason: Her dress sense, to many, raises a lot of questions about her claim as an inspirational singer. But the mother of three, who came to public consciousness when she released her album, Folakemi, seems to be unperturbed. In this interesting and revealing interview with BABATUNDE SULAIMAN, sexy Doyle talks about her career and love life, among others
For some time now, you seem to be keeping a low profile. Are you doing this on purpose?
If you call it a low profile, I won't object to it. But the simple truth is that if you don't retreat, you cannot really come out with something interesting. Apart from that, I was busy working on how to relocate my kids abroad. The three of them are now in the United States. They are actually American citizens and I had to really allow them go to where they belong. But now, I'm busy with my job; I am in the studio recording an album under a label, Art Kingdom. Apart from this, I work with Predy Wise. I am actually managing his new hotel. He wanted a capable hand to manage the hotel and he found me good enough for the job.
Do you have any experience in the hospitality business?
In the past, I have managed Showbiz Africa for Osaro Onaiwu; I have managed Party House and I have also been into events packaging and marketing. Also, I am really into hospitality business.
Music-wise, what are you doing at the moment because you don't seem to be active in the scene these days?
When it comes to music, there's really no competition. The important thing is that you should be able to do your presentation very well. And if you are able to do so, you will find that it is going to be accepted. If you release a job that is not of good quality, it tells from the market.
Are you still going to be playing gospel music?
I don't know what you mean by gospel, but the truth is that I talk more about religion. I am a very spiritual person, though people misjudge me for my outlook. I could sing about joy today and I could sing about marriage tomorrow; but it does not mean that I am a gospel artiste because I speak about spirituality most of the time. Fine, you may call me an evangelist because I minister. I am a showbiz person, but I don't let my spiritual life mix with my business.
When you said people tend to misjudge you, does this have to do with your lifestyle?
What lifestyle? Maybe you mean my dress sense.
Well, it is also part of it. So, how do you reconcile what you preach in your music with your dress sense?
I am verse in the things of God. I understand the Bible and I have a personal relationship with God. I know that what God is actually interested in is in the heart of man. And because I know this, I tell people to work more on their heart rather than their physical being. Apart from that, naturally, I like to look good. I am a sexy woman and I believe in my femininity. I know that for God to have made me a female, He would not permit me to throw my femininity away. So, I think I am just being myself. And if you can recollect, I was one of the first female artistes that really brought glamour into the videos of gospel music in Nigeria. I am happy that a number of people are really following the trend today. Before then, you would find a lot of gospel artistes that were not wearing earrings and so on in their musical videos. Though a lot of people see me as controversial, I am not.
In a recent interview you granted a soft-sell magazine, you were quoted to have said that you would no longer be wearing revealing dresses. Did you actually say this?
I was misquoted. I am not an explicit person. Yeah, at a point in my career, I went explicit. But it was only showbiz. I was only trying to make people understand that I could also wear what the like of Tony Braxton was wearing abroad. That was the message I was trying to pass, but a lot of people saw it as something else. Well, there is no big deal.
When I read that you made that statement, I felt you now you have some regrets regarding your dress sense in the past.
I don't regret anything. Take a good look at me, am I not well-dressed? I am not putting on a suit, but I still look good.
How do you define your style?
The first thing that defines my dress sense is my femininity. Whatever I am doing, people must see me as a female.
But why did you have to relocate your children abroad?
Actually, they are American citizens. Secondly, the education system in Nigeria is not encouraging. My first son is in the university and I thought he should be in an environment where there is continuity. In Nigeria, the education system is fraught with strike actions by lecturers, cultism and so on, and I don't want all this in the lives of my children. Of course, America too is rough, but with the kind of discipline I have inculcated in my children, they are going to be fine over there.
Are they with their father over there?
Yes, they are in touch with their dad there.
But you are no longer married to him?
Of course, I am no longer married to him. We broke up a long time ago.
How long?
17 years.
Okay, are you in another relationship now?
Yes.
Will this lead to marriage someday?
It will lead to me launching an album. My music is the man in my life.
Are you saying you are in a relationship with your producer?
I am more involved in my music and my job. I really don't have time for any relationship now.
Does it mean you are not thinking of remarrying?
I don't know how I can do it. Maybe I will learn how to be a married woman again. But for now, I don't even know how to be a married woman. All my life, I have learnt to be a mother and a friend. So, I have to learn how to be a wife again.
You have been out of marriage for 17 years. But in this society of ours, most people see single parents as loose and promiscuous. Doesn't this bother you?
It doesn't bother me because a woman's life is always duplicated in the life of her children. If you see a responsible woman, you will see this trait in the life of her children. So, there is no need pretending. Therefore, let our children judge the kind of person we are as women. When I see irresponsible children, I just say I blame their mothers for it. So, I believe that being responsible or otherwise has nothing to do with one's status. If it is all about being married, why will you find children of judges, who are happily married, being armed robbers or prostitutes? So, it depends on one's self-discipline.
Why are you afraid of going into another marriage?
Am I afraid? Well, the first reason is: Once beaten, twice shy. Apart from this, I have some attributes that I am looking for in my would-be man.
What are those attributes?
The man must be extremely God-fearing. If he is God-fearing, he will know that he's not supposed to hurt his wife or cheat on her.
Was that the mistake you made in your first marriage?
Well, I won't call it a mistake?
Or you probably didn't look out for any quality in your husband then?
I got married at 18(pauses)...
How old was the man then?
Let's leave this. He was quite older than I was.
Could that be the reason why the marriage didn't last long?
I was young and I didn't have much experience when I went into the marriage.
So, what will you want in any man now that you are more experience?
As I said earlier, the man must genuinely have the fear of God in his heart.
Do your children, once in a while, advise you to remarry? And if they do, what do you normally tell them?
We don't even talk about it because marriage is never an issue to us. I just want to sacrifice everything I have for them.
How has it been raising the children alone?
Yeah, I am experienced and I am strong enough to encourage other single parents and even those who are still married. They come to me for advice and I tell them about some realities of life.
Don't you feel the need to have a man around you once in a while?
I have a lot of people around me.
But I don't think any of them can give you sexual satisfaction?
I have good friends around me and sex is not even an issue I want to go into. Sex has never been an issue.
Really?
It is important, but it is not an issue. It is only when you make an issue out of it that it becomes something else.
How long can you stay without sex?
As long as you want, but it depends on your own discipline.
So, are you saying you have not had sex for 17 years?
If I say that, then, I am a bloody liar! But let's leave it at that.
When your marriage broke up, were you heartbroken?
Well, I would say I was disappointed but not heart- broken. Personally, I like to guide my heart jealously; so, I was really disappointed when my marriage crashed. I felt bad in the sense that I have elder sisters whose marriages are intact; so, I felt I would be the only divorcee among them
What do you remember most about your growing up?
The only thing I can remember about my growing up is that my father was always teaching me proverbs. He inculcated a lot of discipline in me through proverbs.
Can you think of any particular incident that has saddened you most in life?
Although I won't say that all the days of my life have been rosy, my children and I are fine. But one thing that has saddened me so much is the issue of another colleague of mine, Funke Celion Dion. I remember we started out together… In Nigeria, I can confidently tell you that she is the best female voice. When I see her and think about her plight, I feel very sad. But we are trying to see how we can bring her back to the limelight. We are really working on that. If she was in America, you would have seen a lot of people that would be interested in rehabilitating her. It hurts me so bad whenever I see her. Fine, we all make mistakes, but we are not strong enough to correct ourselves. She is not a strong person, so we need people to strengthen her.
When was the last time you saw her?
I saw her yesterday (Friday, April 23). I see her everyday.
Where is she?
She actually sleeps in front of Option Nite Club in Ikeja, Lagos State. I actually took some reporters with City People to interview her recently, and we are working on something for her. I want to use this medium to appeal to Nigerians to come and help her.
What is the greatest lesson you have learnt from her travail?
In life, one should take things slowly and easily. By so doing, you will be able to build a very good foundation such that even when you fall, you will have something to fall back on.
At that time when you were still "explicit", did your pastor in the church complain about your dress sense?
They dared not talk about my dress because the Bible says, "Who made you a judge over them?" So, who is a judge over me? Let God judge me. If God wants to judge me because I am not dressing well, he won't answer my prayers. So, as long as I know that He always answers my prayers, then, why should I bother about whatever anybody says concerning my dress? I don't think there is anything I have asked God that He has not given to me. So, I don't really care. Though I might not be accepted in some churches like the Deeper Life Christian Church, I don't care. I remember I was once invited to perform at a church and I was looking all this Gloria Doyle; and when the pastor who invited me saw me, he was like 'Eh, eh, just go and look for something to cover your head!' But I told him I did not come for a fashion show. I asked him if he came to see me minister or watch me. And he said there were some elderly men here…But when they called me up to perform, most people asked me if I was a pastor because I ministered in words and in songs. But I told them I was not a pastor in any church. I would tell you what is good and what is bad. So, leave my dress, but listen to me.
Could you tell me a little about your growing up?
I grew up in a polygamous environment. So, I learnt to be strong and independent. Coming from that background also taught me how to take the right decisions in life. I went to Ambrose Alli University in Edo State. But along the line, I studied cosmetology.
How many albums do you have to your credit?
I have one titled Folakemi and I have another single titled, Rock Me. I later released Asi ma lowo with four other tracks. I am working on the next album titled Back to glory