'I avoid Shayo, Moet, Hennessy in my music'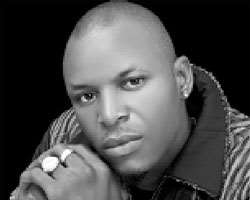 I look into your eyes and I dey see say the love wey you give me na for play. I be understand say na your way. I be your mumu because I see say you fine…..Caro yellow Sisi, Caro yellow tomato, Caro chop my money follow oyinbo…. Welcome to the lyrics of Kaha's latest single titled Caro. The song which is currently enjoying airplay on television tells the story of a beautiful girl who gyps unsuspecting male admirers. "Caro is actually a true life story, but not mine," Kaha is quick to point out. He then adds, "I have experienced something similar though."
The Afrocentric R n B and HipHop singer is not new in the Nigerian music industry. In 2002, he came out with his debut album, Party Bully. The video of another single, Omo Ele got him first MJ Video on Channel O in the same year.
He had to take a break to concentrate on his studies. "I had to quit because of my studies," he said. After graduating in 2004, he went back to his first love – music. "I had always been interested in music and my dad encouraged us when he saw the talent in us. I had a piano tutor who came to teach us when I was nine years old," he revealed. It wasn't as if he left music totally while in school because he had an indoor studio where he recorded "loads of tracks. "
In 2008, the Illah, Delta State-born artiste released another track, Heart robber. It tells the story of exaggerated vows that lovers make to their partners. Interestingly, the success of Heart robber inspires him to come up with another track, Omoge, which he says, is better though.
While most Nigerian artistes are singing about wine, women and weed, he seems to be preoccupied with love. "Yes, I sing about love. I make sure I avoid Shayo, Moet, Hennessy in my music," he stresses.
Any reason he wants to be different? The Economics and Statistics graduate of University of Benin explains, "Nigerians are tired of noisy music. Everybody now wants to listen to good music which passes a message – the reason I have tracks on beauty, encouraging people, et cetera." To the artiste, good music must have a rhythm, convey a message, must be "pleasing to the ear and be generally accepted everywhere."
His latest offering which has the hit track, Caro – mixed and mastered by Foster Zeeno and produced by Abel Davey – is made up of 10 tracks and one instrumental. Artistes, he says, include instrumentals in their albums because most club Disc Jockeys make use of them and some people enjoy it.
"Collabo" slang which means "collaboration" is one fad among Nigerian artistes now. Kaha does not see anything wrong with it. He will like to "collabo" with some Nigerians artistes. In fact, he is doing one in no distant time with Durella. "Collabo is not a bad thing. It is like trying to merge two different styles to give a particular track another feel," he explains but warns, "Trying to feature an artiste that does not blend is bad."
Kaha attended the Federal Government College, Warri, and was also at the Institute of Management and Technology, Enugu, but he had no plan of using the academic certificates to procure a job for now. "My degree certificate is just there. I did it to satisfy myself and have something to fall back on. My parents were scared I would give up education and they encouraged me." So, where is his certificate? "My certificate is in one very safe box. Sometimes, when I look it, I smile. I rule money, money cannot rule me," he says.
His plans? "I have just dropped a single. I am at the stage of distributing the CDs. I intend to scout for marketers. I have about three promoters who are interested in the album, but I haven't made up my mind because I am looking for true deal," he replies.
Born Emmanuel Nzemeke, how did he get the stage name Kaha? "Kaha is a New Zealand word for strength. My grandma who lived there for a while gave me the name."