NOLLYWOOD MARKETER, PRODUCER IN POLICE NET OVER GHANAIAN ACTOR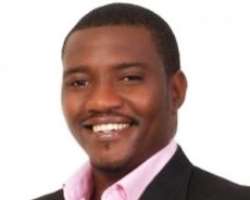 Nigerian movie producer and a marketer fight over a Ghanaian actor, John Dumelo and were recently apprehended at Division A Police Command in Asaba area of Delta State. As the story goes, penultimate week, precisely 4th of April, 2010, a hit argument was said to have occurred between boss of Det Rich Production Company Limited, Chinedu Nwani, his associate, Chidi Chijoke and a young guy called Ikpechukwu Okechukwu over who to work with the Ghanaian actor for that day. The argument which later resulted to fisticuffs, we gathered, dragged the three people to Police Station for settlement.
The Police Station witnessed a large turn out of Nollywood practitioners who had gathered in demand for the bail of colleagues whom the police arrested on hand cuff from a movie set.
Mr John Dumelo, we gathered, came to Nigeria to shoot a certain movie to be shot and some Nigerians actors who have never like the guy's acting prowess were not too happy with the arrangement and instead of the them showing some maturity, they both stated fighting and throwing banters at each other.
The question on the lips of those who later got to know about the real cause of the whole saga is, what is so special about the Ghanaian actor that would make three sons of the soil to be dragging themselves to Police Station? "Are Ghana actors not taking our place, what will be going on in the mind of this actor that two producers fighting over?" These and many more are the questions raised by one of the stakeholders in the industry before the crisis came to a halt.
As we learnt, Dumelo is contemplating to increase his professional fee now that he has become a hot cake that two movie veterans are fighting over. Nigeria, who is fooling whom?
nollywoodgists.com/Alonge Michael
EXCLUSIVE