AMAA in retrospect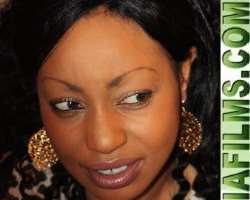 The night was not just about plaques and speeches, here are some highlights of the event.
Crying Lydia Fordon
We thought Lydia only cries in movies, but the Ghanaian actress shed tears of joy as she was pronounced best actress alongside Jackie Appiah and Naa Ashoku. Lydia cried and shocked all and sundry when she said 'for once I'm feel like I'm doing something right with my life' oh my God. Naa was absent but the heavily endowed Jackie and Lydia made up for her absence.
John Dumelo 'mobbed'
Though he did not win any award, John Dumelo still stole the night as he was the sexy actor on parade that night. It took almost forever for his people to get him inside the hall as female fans besieged him seeking autographs and some 'pecks'. As he was making his way out he was 'mobbed' again and as a complete gentleman he obliged all his fans. What we don't however know is whether he honoured the request of a female fan that wanted to spend the night with him.
Ramsey Nouah's telephone conversation
Ramsey Noauh was not at the award ceremony but audience felt him as he spoke to them through Kunle Afolayan's blackberry phone. He was full of gratitude and said all the normal stuffs award winners say. We hope he will be at the award next year to either hand over the best actor plaque or collect another one.
Peace Anyiam Osigwe's speech
The CEO of AMAA, Peace Anyiam Osigwe gave an impressive speech without reading from a script. The highlight of her speech was where she said we should all live the African dream, a dream by us and for us; a dream that is not dictated by others.
Rita Dominic and Basorge's kiss on stage
You would be forgiven to think it was one of the scenes in Nollywood movies. Basorge Tariah (Jr), one of the comperes for the night actually asked for a kiss from peer Rita Dominic and got it. Before you think it's one of those tongue-t-tongue kiss, it's not. The sultry actress only gave the comedian a lip-to-lip peck. For Basorge, it was a dream come true. By the way, Basorge was in his comical element during the night.
Kunle Afolayan stole the show
The scion of the Afolayan family, Kunle was the star of the night. The tall and lanky producer and director of Figurine, the box-office hit movie carted away a number of awards. Kunle was full of smiles, but we think the smile would have been a broad laughter if the $50,000 that usually goes with the award was also given.
Governor Timpre Sylva
Governor of Bayelsa State was there with his wife and entourage. He gave a long speech and told us Bayelsa will continue to support AMAA. What he did that actually surprised many in attendance was that he stayed all through the award. Talk about backing his words with action.
J-Martins rocked them all
The good or bad music crooner, J-Martins was the star musician of the night. Not only did he perform… he succeeded in making almost everyone get on their feet to dance. The musician was however not with his traditional cap that gave a very clearer picture of why he had been using cap all along.
The red carpet
Though the red carpet did not feature the usual A-list stars, it still had the razzmatazz that usually goes with red carpet. Stars like Lizzy Anjorin, Ejike Asiegbu, Rita Dominic, Grace Amah, Jackie Appiah, Lydia Fordson, Eniola Badmus, Segun Arinze, Chinedu Ikedieze, Dakore Egbuson, Victor Osuagwu, Bhaira Mckiwu and others all made the red carpet glitter.
Edge, the unknown star that stole the show
He is a Bayelsan and very much unknown but he was one of those that stole the show that night with his performance. The R & B singer gave a very good performance and almost made us forget that we have a Banky W. If his performance is anything to go by, Edge will truly have an edge in the market.