Some people come to my church out of curiosity— Queen Ure Okezie, pastor, banker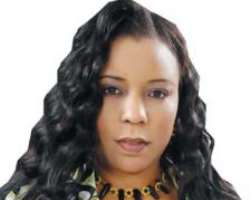 Queen Ure Okezie is beautiful and amiable. Although a lot of controversies trailed her crashed marriage to Soul E, a Hip-hop singer, she has remained undeterred. At the moment, Okezie, who hails from Abia State, runs the popular Christ Vila, a ministry located at Omole in Ogba, Lagos State. In this interview with ADA DIKE, Okezie, who is also the Group Head, Treasury, Financial Services and Sales of Centage Mortgage Savings and Loans Limited, talks about a whole lot of things that make her tick.
Have you found another love after the break up of your marriage to Soul E?
Must you bring that part to this interview? Can't you just ask me about something else? No, I am not looking for any man.
Are you in any relationship at the moment?
No, I am not in any relationship.
Will you accept Soul E if he comes back?
(Laughs) I don't want to talk about that aspect of my life.
But your fans will be interested in knowing this?
Please, I won't talk about it.
What's your next plan for marriage?
No, I don't have any plan because things like that happen naturally. A woman is not supposed to be looking for a suitor. Ladies should just live their lives and marriage will happen naturally. I am having a great time.
What inspired you to establish a church?
I have always been a church girl. I grew up in an Anglican Church and I worship there each time I travel to the East. I believe that God is in every congregation and everywhere. Each church and ministry is unique in itself. I heard about Jesus in a particular way when I was 10 years old. I got born- again when I was in form one at the Federal Government College, Owerri; I was a chapel prefect then. I grew to a point where my message had love as the fulcrum. There is no condemnation about it and I am trying to remind people that God is their father. I have a passion for serving God right from my childhood.
Could you give a figure to the number of people in your church?
We are less than 100 members, but we are growing. Most of us stopped at when we received Jesus Christ, but I believe that the heart-beat of Jesus Himself is not just for us to recognize Him as the saviour or the Light. He wants us to know that He is the light and we are also the light. He is the son of God and we also are the sons of God. In other words, you and I are divinity wrapped in human clothes.

What is the secret of your beautiful looks?
(Laughs) I am grateful to God for His favour. So, He is at work in my life.
As a beautiful single lady, your personality will always attract a lot of male members to your church. How do you cope with men?
Absolutely, some of them come out of curiousity to see what I can offer.
Have you had any encounter with any of them?
Of course!
As an employee of Centage Mortgage Savings and Loans Limited, what is your job description?
I am the Group Head, Treasury Financial Services and Sales. Centage is a mortgage bank. Most of what we do is housing and construction of all kinds of building projects. Nigerians are beginning to be aware that they can actually purchase houses without paying for all at the same time, which is common abroad. Some Nigerians now own houses through primary mortgage institutions. Mortgage Bank is capital intensive and the demand is very high.
As a mortgage banker, songwriter and pastor, how do you cope with the challenges?
All the things I do are intertwined. Everybody has spiritual responsibilities and that is part of life. On Sunday morning, people live their homes and go to church, just like I do. They also go to work and they have other talents and hobbies like I do. The difference is that I am not ignoring any of these talents. People should bring out their talents too. Music, poetry and reading are my hobbies. I read and write a lot. I have written a book, "Pray without ceasing" and so many other books are on the way. I am also a scientist; I studied Physics in the university and I am in the process of doing something in quantum physics. I am glad that I am able to make out time to do all those things.
Who really is Ure?
Ure is a very simple person who wants everybody around her to be happy.
Could you tell me a little about your background?
I am from Umuahia in Abia State. My dad died a few years ago. He was a medical doctor and a politician. He was a two-time Minister of Culture and Health during the Gowon regime. I attended the Federal Government College, Owerri. I later proceeded to the University of Jos, Plateau State where I studied Physics. I came to Lagos after my youth service to work at Diamond Bank Plc. I moved over to Zenith Bank Plc from Diamond Bank. Then, I joined Platinum, which is now called Bank PHB. From there, I moved to First Atlantic Bank, now known as First Inland Bank.
How was your growing up like?
Growing up was beautiful. I am the only girl and I have three elder brothers. So, I grew up happy. I was born with a silver spoon in my mouth and I think the silver spoon is still there. I was pampered, favoured and honoured because I was the only girl and the last child. So, I had all the attention from my father. Maybe that is why I love attention.
What is your greatest achievement so far?
I live my life happily as it comes every day. But one thing I love so much is my ministry, "Christ Villa". I am a pastor and my ministry is in Omole Estate, Lagos. It is a church. For me, it is so awesome that I have the opportunity to share with people the principles to live a beautiful life. God wants us to live a wonderful life. Suffering is unnecessary. Struggling is not part of the game. But when you don't know how to live an easy and rosy life, you begin to think that God wants you to suffer. It's wonderful for people to gather to worship in my church and hear me speak. Some of them come to my church out of curiosity, wondering what I have to offer. They are blessed when they come because we are like a family and the spirit is sweet. So, the church is the sweetest part of my life.
What are your likes and dislikes?
I love life and I love seeing people being happy. I love good things of life. I hardly remember what I don't like and always crave what will make me happy.
What is your view about Nollywood?
Industries grow and evolve, including Nollywood. Sometimes, it appears that things are moving backward, but it is not part of evolution. I think everything is improving. It is a process.
I am a very positive person and I try to look for the positive aspect of anything. Nollywood has succeeded in providing employment opportunities for a lot of Nigerians. It has also brought out talents from people that they didn't know they had. With time, everything will get better. Thank God that a lot of people, rather than doing non-productive things, are now going into acting.
Would you like to act in a movie in the future?
There is a movie that I was part of. It was just something I did to help a friend. I was around and they asked me to take that role. Every talent that I have, like music and so on, is a thing that I wouldn't do for commercial purposes.
Right from my childhood, I have been singing. I write songs and I am sure that I will record them and shoot the videos in the future; and I will enjoy watching them not for commercial purposes.
We have a theatre part in the ministry which we are working on. We will use drama and film productions to project the gospel the way we understand it. All these things will come in due season.
Are you planning to package secular or gospel music?
I write songs and I don't define songs that way because I believe that every song comes from inspiration. If Jesus' name is not in a song, it does not mean that the song didn't come from God. Some of the songs I am planning to record may not have Jesus name in them.
What is your message to Nigerians?
My wonderful brothers and sisters, let's begin to see one another as one. We can actually live like that. We will have a better Nigeria if we love one another.