JONATHAN IS NOT NIGERIA'S MESSIAH –CLERIC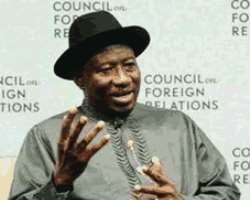 •Acting President, Dr Goodluck Jonathan
Amid growing confidence and euphoria by some Nigerians that the nation may witness significant socio-political developments under the leadership of the Acting President, Dr Goodluck Jonathan, a cleric has warned those harbouring such optimism to forget the idea, adding that the status quo would remain the same.
While urging Nigerians to remain steadfast in prayers and supplication to God for peace to continue to reign, the General Overseer, Bible Life Church, Olodi, Apapa, Lagos, Rev. Leonard Umunna, said Nigerians should not rejoice yet over Jonathan as he is not the expected messiah that will take Nigeria out of the woods.
In this interview with TUNDE THOMAS, the fiery cleric renowned for his blistering sermons against military dictatorship especially during the Generals Ibrahim Babangida and Sani Abacha regimes spoke on several issues including the state of the nation, Jonathan's leadership, Yar'Adua's ailment, 2011 general elections, cabinet change, protest marches by SNG and amnesty programme among a host of others.
Excerpts:
State of the nation
At this point of our national life, we are almost at a cross-road. We need to move closer to God. Our nation require all men of goodwill especially our political leaders to rededicate themselves for service to this nation.
If not that God loved this nation, a lot of things had happened in the recent past that could have resulted in serious crisis for Nigeria. But our political leaders need to buckle up, they must jettison parochial interests by embracing ideals that will bring positive changes to the nation.
Jonathan's leadership
Forget some of these changes being effected by Jonathan. They are only cosmetic. Jonathan is not the expected messiah. He will remain loyal to Yar'Adua and the Peoples Democratic Party, PDP. He won't rock the boat.
Nigeria need a political messiah, and Jonathan is not in that mould. Under Jonathan's leadership it will be a continuation of the old order.
In the spiritual realm, God has revealed to me that the messiah that will pull this nation out of the wood is yet to emerge. Nigerians should not rejoice over Jonathan.
Protest marches by SNG
It is a good idea I fully supported. For several years especially during the military rule, I preached against bad leadership and lack of accountability in governance. I fully supported what Pastor Tunde Bakare is doing. It is part of our commission as ministers of God to speak out against any evil in the society especially bad leadership.
Great prophets of old such as Jeremiah, Isaiah and Elijah spoke out against bad leadership, they canvassed social justice and equity. If these great men of God could carry out these exploits, why can't we latter day God's messengers do same?
I strongly believe that more ministers of God should join the Save Nigeria Group rallies.
2011 General Elections
If Professor Maurice Iwu can be removed as the chairman of the Independent National Electoral Commission, INEC, and somebody more transparent put in his place, the 2011 general elections will not only be free and fair, but will also be crisis free.
The clamour for electoral reforms and its implementation would amount to an exercise in futility as long as Iwu remain in the saddle. Since he has become a kind of controversial figure, Iwu should step aside.
Apart from Iwu stepping aside, members of the political class should also put their house in order. It is a shame that eleven years after return to democracy, Nigerians have nothing to cheer about. Dividends of democracy has eluded Nigerians. While majority of Nigerians are going through difficult time, members of the political elite continue to swim in opulence. They continue to acquire ill-gotten wealth while those who voted them into office continue to lament.
God is angry with our corrupt leaders. If they refuse to change their ways, the laws of retributive justice will catch up with them.
Recurring crisis in Jos
The Jos crisis and other recurring ones in the north have become festering simply because the right approaches are not being adopted by the authorities.
Our leaders need to be sincere and God fearing. They should not be partisan. It is due to the failure of successive governments to implement the reports of various panels that have been set up to look into the root of the crises with a view of meting out appropriate sanctions to anybody or group found culpable.
Nigeria should not be turned into another Animals Farm where some animals are equal than others.
I also want to advise the leadership of the Christian Association of Nigeria, CAN, to continue speaking out as it is doing against these injustice being perpetrated against Christians. They should not be discouraged by seemingly unwillingness of government to act decisively against the perpetrators of these violence against Christians.
Amnesty programme
Amnesty rehabilitation programme or the best antidote to Niger-Delta problems is massive infrastructural development of the place by government.
Nigeria is not the only oil producing nation in the world, but the question to be asked is to what extent is the Nigerian government taking care of the people and the environment in the oil producing communities of the Niger Delta?
As long as government fails to do what is right, there will be agitations and violence in the area. If government today show genuine commitment to the development of the area, there will be peace. Nigeria should learn a lesson from Libya and some other Arab oil producing nations how they have not only transformed the lives of their people, but have also embarked on physical development which has transformed some of these countries into paradise on earth.