WHY OHAKIM DESERVES A 2ND TERM – NWANZE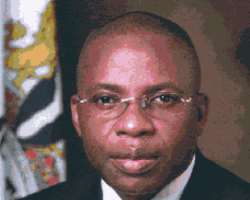 •Ohakim
New face Organization (NFO) is an umbrella body of the people of Imo State extraction. Come May 8, 2010, Governor of Imo State, Ikedi Ohakim will visit Anambra State to inaugurate the Anambra chapter of NFO.
Dr. Chijioke Nwanze, coordinator of the new NFO in Anambra State in an interview with Daily Sun spoke on the inauguration, politics in Imo, the Ohakim administration and some national issues.
Excerpts:
NFO in Anambra
NFO is not a campaign body of the Governor of Imo State but rather an umbrella body of the good people of Imo State through which they champion the cause of the state. It was in existence before Ohakim came into office and it will continue after he leaves.
The people of Imo State resident in Anambra have deemed it fit to come together through the NFO in finding ways to contribute their quota for the development and progress of Imo State. For the very first time Imo indigenes in Anambra are coming together as a people under one umbrella. This is a welcome development and hopefully NFO Anambra is going to stand as a bridge linking us with the people and government back home. It is also going to bring us closer to the government of Anambra State where we live and do our businesses. We are very grateful to the governor for recognizing us here in Anambra. And come May 8, 2010 Governor Ohakim will be here to inaugurate NFO Anambra State chapter.
There are insinuations from some quarters that NFO is Ohakim's baby and that is why he is coming to Anambra to inaugurate it himself. People are entitled to their opinions. I expect people to talk on issues. Some say it is his campaign body but I had dismissed such insinuation earlier. What is wrong in a sitting Governor identifying with an organization? The significant is the peace and harmony existing between the Governor and the people. I have told you that New Face was there before Ohakim and goes on to stay after he leaves office, so that makes it clear that it is neither his boy nor his campaign body. Nevertheless, the organization can support anybody with good intentions for Imo State. And if the members decide to support the Governor, with all its capacity I have no objection.
Ohakim in 2011
Thus, by 2015 when he must have served his constitutional mandate, the people could see a greater Imo that is flowing and blossoming with development. The Governor I can assure you have laid a strong foundation towards that, and it would possibly amount to catastrophe for the people to ignore that foundation. It is only a foolish person that abandons such foundation of interesting prospects. By the time you abandon such you wouldn't have the basic force for progress. I can say based on my own assessment that our able Governor has laid a perfect foundation for all that is required to move Imo State forward.
Ohakim has unlocked the potential of Imo State and we should allow him to continue. Bringing in another person in 2011 would amount to destroying what he has so far done.
Projects
The leadership of Ohakim is not after immediate satisfaction but for a long-term service for the good of the people of Imo State. Some people use to come and start sinking boreholes, tarring roads, buying transformers. I can boldly tell you that water, electricity, roads are not the problem of the people. The problem is that people don't have future, they don't have hope and that is the area Ohakim is coming from. He has given the people of Imo State a future. The problems of water, road and electricity have been there and people have been enduring. Joseph told his brother let us save some stock for famine. Esau wanted immediate satisfaction but Jacob wanted a long-term blessing. Ohakim is working in line with the spirit of Jacob.
Past Imo governors
They destroyed Imo State because they lacked vision. This is an obvious fact. They failed to bring the interest of government to bear on the people. The Bible says that when the body is functioning every part could be effective. Governance is all about designing. America was designed before being developed. A master plan was designed to develop the country. That is how governance should be followed. Some people will come and do one particular thing without even laying the foundation for maintenance and along the line it crumbles and dies. There is need for futuristic developmental plans that guarantee the future of the people. Such plans will chase hunger away and make everybody future-oriented. Why do you think that some people engage in violent protests? It is because they lack hope, where there is hope; there is definitely lack of hunger. Jesus says, I will give you water that will quench thirsty forever. That is the way I see the current administration of Ikedi Ohakim in Imo State.
Ohakim's Clean and Green project
The Governor is not from Owerri council area and there is no way a sitting Governor could abandon his own territory in terms of developmental services. I can tell you that Ohakim is decentralizing development in Imo State just like what is obtained in America. Every place has its own uniqueness and the government recognizes that. For instance in America where I have been twice, Huston is the headquarters of America's oil. In Nigeria they drag everything to capital city to the detriment of other cities.
Let me inform you that Ohakim is giving Orlu, Okigwe and Mbano a special attention with a view to upgrading them into modern cities. In fact, I doubt if there is any need for Governorship election in Imo State come 2011. I wonder what the contestant would use as yardsticks to unseat Ohakim.
Leaving PPA
That is human being for you. I can tell you that even if he did not defect to the PDP some people would still call him a betrayer. You cannot satisfy everybody in this world. Yes some will be angry because Ohakim did not join PDP. In my view I think he had a good reason for joining the PDP. He wanted to reconcile his vision for the people with the system and things like that. There must be cogent reasons that meant well for him and the state he governs, I don't see anything wrong about that. Defection is normal in politics.
Do you need me to tell you that former Vice President Atiku Abubakar and many others have cross-carpeted back to the PDP? That is politics for you and it is not important spending so much time discussing how people move form party to party.