Toyin Aimakhu Puts Her Marriage In The Hands Of God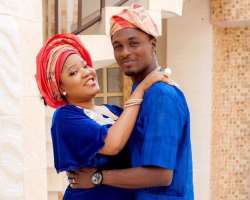 Actress Toyin Aimakhu has taken the Godly approach in trying to know what happens next in her crashed marriage.
In the never-ending soap opera that is Toyin Aimakhu and Adeniyi Johnson's post separation blues, the actress seems to have let everything go and put in the hands of God.
In an unusually calm and grateful Instagram post Toyin Aimakhu thanked her fans for their concern and implored them to allow God handle her broken marriage.
You can read the entire post below;
"In the end we are both at fault. I held on too tight and he didn't hold on enough
"If I don't say this to my fans, then I will be an ingrate, I have never seen or heard about any breakup and fans beg this much, but please let God take the wheels please somethings are nice physically but not spiritually and some spiritually but not physically.
"God will lead me, let him lead us please, I don't want to make any mistake trying to please you fans I really do appreciate the Love and I'm sure he does too, if God says yes no man can ever say no and if he says no then no man can ever say yes..if I don't acknowledge all your love, pleads and messages, then i will be an ingrate. I love u all from the bottom of my heart, please keep praying and supporting us."
First of all, the tone of her recent message is an about turn from her previous messages. In this new post Toyin Aimakhu sounds cool, calm and collected as well as reflective.
She also sounds like she is open to the idea of reconciling with her actor husband Adeniyi Johnson after the well documented back and forth they have had.
Only two weeks ago there were allegations of poisoning in their marriage. This week Toyin Aimakhu is leaving a door open for 'God to at least determine what happens next.'
And speaking of God on the same day Toyin Aimakhu released her statement Adeniyi Johnson was on the same wave length too.
"There is nothing as strong as belonging to God it gives you internal and eternal peace and assurance that no matter what comes your way God will always lift you beyond….challenge is just a bus/stop in Mushin and ibadan just pass it and get going………#Godblessourhustle #Godownsmylife #GODOVERALL.." wrote the actor on his Instagram page.
Is this a case of Godly coincidence or are both actors seeking the face of the Lord in terms of their marriage? I'm sure we will get the answer to that soon.