[email protected] WAPTV Betwen Our Staff Daniel & Timimouth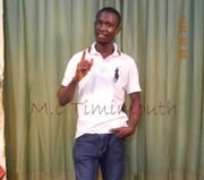 Entertaner and one of Nigeria's grass growth Comedians and Entertainer. Timothy Ogbiti Popularly know as TIMIMOUTH a full-blooded Edo Guy, The comedian his hosting a show Title Mega Praise and Laughter!!, he said this event is a social christian event open to the all ages.
Here is his coment on the interview held today thursday 13th july on his event Mega Praise and Laughter.
•What is Mega praise and Laughter all about.
The First Thing!
Do you know that praising God is the best thing to do first before anything else? Have you ever been in a situation that you feel all alone? Or have you encountered a difficult situation in your life and you don't know what to do, like losing your job or suffering the loss of someone very close to your heart? Consider the good times such as when you receive a raise from your boss or earn high marks at school? What do you usually do during these moments? Praising God makes every circumstance of our lives complete, essential, and eminently worthwhile.
•Why do we need Comedy in our life as christians,
The Scriptures tell us that laughter is a kind of medicine for the soul (Proverbs 17:22). The very fact that God made us as creatures who have the capacity for laughter, who instilled in us the very desire for joy should tell us that laughter matters and matters more than we might think it does. This is why, I think, the writer of Ecclesiastes, perhaps Solomon, reminded us that there is indeed a time to laugh.
Of course there are darker types of laughter or laughing at things God hates or laughing so as to mock and disrespect someone. Comedy at the expense of someone's dignity isn't really comedy at all. It's a kind of rhetorical assault.
But I'm talking about genuine, hilarious, soul-refreshing laughter. This is good for us, good for our well-being. It helps us get through difficult days and it, often, humbles us enough to be vulnerable to let someone see us as human. I think back on the days after 9/11, when comedians gingerly stepped back into the fray. I remember seeing David Letterman cry, but I was really glad when our country had the strength to laugh again.
I've often thought that my best friendships were built by two things: enduring hardships with someone and enjoying laughter. Laughter breaks down barriers. It penetrates walls of pride and prejudice and distrust.
I like to think, in my sanctified imagination, that Jesus was someone who was unafraid to laugh. The gospels don't record it, so I can't be dogmatic about this, but my guess is that if you spend three years with 12 guys from different walks of life, you are going to have moments of sheer laughter and joy. Imagine the stories we might hear in Heaven about the things Peter said that didn't get published in the gospel narratives. We know little about what their conversations were like in those three years, but if they were like normal, human conversations among close friends, we have to imagine there was much laughter.
The bottom line is that we have a Creator who created us to laugh, to find joy, to enjoy the pleasures He has given us. There is a time for laughter and there is a place for those who are especially skilled to make us laugh. So let's disabuse ourselves of the silly notion that comedians are serving a wasted calling. Because without them, our lives would be impoverished.
•Where is the venue for Mega praise and laughter?
We are moving it state by state and we have diffrent venue's for diffrent states,
We are strating with lagos, Venue Ss joachim and Anne chatolic church multiporpose hall, after lagos is benin venue is St patrick's chatolic church Multipurpose hall, Next Abuja, PH,Delta,Imo. we are jet to fix a venue for this state, then Lagos 2nd venue is @ our lady of louis catholic church multipurpose hall. There after we find our way round the countinent and out side too.
•Tell us abouth the comedians coming down to the event in St joachim and anne in ijegun?
We have my self...y u laughing, we hv aje baba, eboh bom, laugh doctor, ice water from Eko fm, igos from wazobia, omonla from wap tv, plenty mouth, and my own comedians md young prince, kc yabary, mc yes boss and lot more!
•Tell us abouth the gospel artise?
Eben will be coming
Emma rainess will be dey
O2mininu and the mutitles will be dey
And a gospel praise maching all d way from gana JV by name he will be dey too. All this artise/comedians listed above are just for the 24 of september show, we will provide new list for other show.
•How much is the ticket 4 lagos own?
The amount is very afordable as low as Regular N1500, vip N5000, table for 4 N20000 that afordable and freandly now!
•Hum ok cos its a christian show?
Not realy but cos we are starting vry low every thing big started small!
•We will like to have u again on this station!
No problem and thank you for your consine too.
•Thank You Timimouth For your time well spent on Stage Today.
Thank you two and May God bless you.
•You are far too kind Sir Timimouth