Nigerians are Scared of Their Leaders but Can Attack me for Wearing Skimpy Dress…Halima Abubakar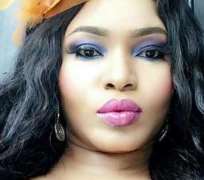 Nollywood actress, Halima Abubakar, is current angry with Nigerians for the fact that things are currently going wrong in the country and no one is saying anything.
The actress pointed out that there have been lots of killing and chaos in the country and yet the President has not come out to address the nation on his stand all because the lives of its citizens are not given important.
She noted at least there should have been the regular social media hast tags to help create awareness that Nigerians were tired of the constant killings in some parts of the country rather everyone have decided to keep silent.
In her words, 'Has the president even addressed the chaos and killings in the country yet? Shaking my head, talk about priorities. We can like hashtag!But refuse to start one for all the violence in the country #stop the violence #stop domestic violence #stop killing us #Ambhalima.'
Halima tongue lashed Nigerians who are very good at judging others by noting that if she steps out with a skimpy clothe, people will come after her with all lots of vein words but cannot use the same mouth to criticize the activities going on in the country.
'if am in a skimpy dress now, some of you will have earful and mouthful to say,' she added.