GREEK CIVIL SERVANTS STAGE STRIKE OVER AUSTERITY PLAN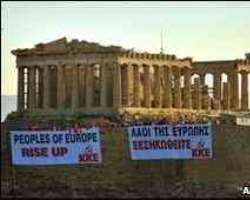 Greek public sector workers, who are bearing the brunt of wage and pension cuts as part of Greece's austerity programme, have begun a 48-hour strike.
Their action comes ahead of a nationwide general strike on Wednesday.
The programme has been introduced in return for a 110bn euro (£95bn) world rescue package agreed for the country.
It aims to achieve fresh budget cuts of 30bn euros over three years, with the goal of cutting Greece's public deficit to less than 3% of GDP by 2014.
It currently stands at 13.6%.
Union leaders say the cuts target low-income Greeks.
"There are other things the [government] can do, before taking money from a pensioner who earns 500 euros (£430) a month," Spyros Papaspyros, leader of the public servants' union ADEDY, told Greek private television.
Silent parade
In other signs of discontent, on Monday a group of teachers forced their way into the main state broadcaster's studios in Athens to protest about education cuts.
What went wrong in Greece?
Greece's economic reforms that led to it abandoning the drachma in favour of the euro in 2002 made it easier for the country to borrow money.
BACK
1 of 6
NEXT
Also in Athens, some 150 members of the armed forces staged a silent parade to protest at having their bonuses cut.
And early on Tuesday, protesters unfurled banners over the walls of the Acropolis to protest against the austerity measures.
The EU has agreed to provide 80bn euros (£69bn) in funding, while the rest will come from the International Monetary Fund (IMF).
The deal is designed to prevent Greece from defaulting on its massive debt.
However, it must first be approved by some parliaments in the 15 other eurozone countries.
In return for the loans, Greece will make major austerity cuts which Prime Minister George Papandreou said involved "great sacrifices".
Measures include:
Scrapping bonus payments for public sector workers
Capping annual holiday bonuses and axing them for higher earners
Banning increases in public sector salaries and pensions for at least three years
Increasing VAT from 21% to 23%
Raising taxes on fuel, alcohol and tobacco by 10%
Taxing illegal construction