Music-- PURE---My Way Produced By DJ Coublon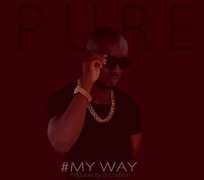 After been away for sometime, the underground king, PURE has landed the scene with a new hit titled 'MY WAY' produced by ace producer djcoublon, mixed by @grandpondebeat.
PURE is a Nigerian singer, songwriter, instrumentalist and performer,
Whose style of music is influenced by HipHop, RnB & Afrobeats.Just listen to #myWay where he showcases his distinctive sound,versatility and maturity in music.PURE for sure is a name that has come to stay in the Music industry.
Download, listen and see why he's called the underground king.
Follow PURE on IG @sir_pureofficial
Download here
https://my.notjustok.com/track/download/id/108104