UN NUCLEAR CONFERENCE: AJUMOGOBIA SPEAKS FOR AFRICA TODAY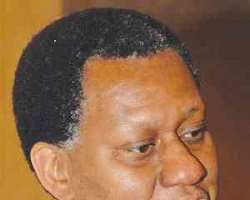 Odein Ajumogobia
Nigeria's Foreign Affairs Minister, Mr. Odein Ajumogobia, has been picked to speak for Africa at the United Nations five-yearly review of the Non-Proliferation of Nuclear Weapons Treaty in New York, United States, on Tuesday (today).
The global conference commenced on Monday with over 100 countries in attendance.
Ajumogobia was billed to meet with the United States Secretary of State, Hillary Clinton, on the sidelines of the conference in what the US State Department described as 'Bilateral meeting with Nigerian foreign minister.'
The meeting, to be held behind closed doors, is expected to discuss issues of the NPT and other US-Nigeria diplomatic relations and it is scheduled to hold after they had attended a working luncheon of the 2010 conference.
About a month ago, the US President Barack Obama held a global summit in Washington on Nuclear Security with Acting President Goodluck Jonathan in attendance.
The summit, attended by over 40 world leaders, was part of US effort to mobilise support for its own approach and perspective for addressing the nuclear issue.
The UN conference started on Monday with the UN Secretary-General, Mr. Ban Ki-moon declaring it opened, but Nigeria will be speaking in two capacities: first on behalf of Africa and then as a nation on its own.