OLUBADAN-IN-COUNCIL DENIES ENDORSING ALAO-AKALA FOR SECOND TERM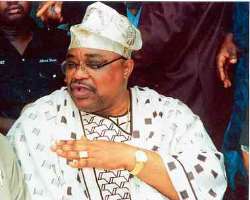 Adebayo Alao-Akala
The highest decision-making authority in Ibadanland, the Olubadan-in-Council, has denied endorsing the Oyo State Governor, Chief Adebayo Alao-Akala, for a second term.
The clarification came after a recent reported endorsement of the governor's second term bid by the Balogun of Ibadanland, High Chief S.A. Omiyale.
Omiyale was said to have been quoted many times by the state government-owned Broadcasting Corporation of Oyo State last week, as endorsing Akala's return bid.
The high chief was said to have based his endorsement on the performance of the governor, which he claimed deserved to be commended and merited a second term.
Our correspondent learnt that it was based on the public endorsement that the Olubadan of Ibadanland, Oba Samuel Odulana Odugade 1, summoned an emergency meeting of the council to take a position on the issue.
It was gathered that having listened to the chief, the Olubadan-in-Council unanimously agreed that a communique be issued dissociating the council from the statement already in the public domain in order not to be seen as being partisan as the 2011 elections draw nearer.
The council, in a communiqué released after the meeting, a copy of which was made available to our correspondent in Ibadan on Monday, described Omiyale's statement as an expression of his personal opinion and not that of the council.
The two-paragraph communiqué reads, 'At the end of the meeting, it was unanimously decided that it is the Olubadan-in-Council under the Chairmanship of His Royal Majesty, the Olubadan of Ibadanland that can speak on behalf of Ibadanland.
'Therefore, the council dissociates itself from the radio statement credited to High Chief S.A. Omiyale, the Balogun of Ibadanland, and therefore regards the statement as an expression of his personal opinion.'
The communiqué was signed by High Chiefs Lekan Balogun (Osi-Olubadan), Oyeleke Ajani (Otun Balogun), Raimi Amoo Raji (Asipa Olubadan), R. Alarape Busari (Asipa Balogun), Aminat Abiodun (Iyalode), Owolabi Olakulehin (Ekerin Balogun), Eddy Oyewole (Ekarun Olubadan) and O. Olaifa (Ekarun Balogun).