BRAND NEW MUSIC: Vineyard Of Grace By ALifted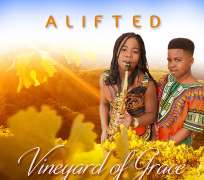 ALifted drops their debut single, 'Vineyard Of Grace' from the 'HOUSE OF JOSHUA PROJECT 1' which is a mix of pop and afro beat fused with contemporary gospel music -creating an exciting and pulsating fast beat.
ALifted is a United Kingdom based gospel contemporary afro-pop duo comprising of Alice Joshua (10) and Lifted Joshua (12). The two siblings launched out as a group in 2015 after they decided to use their talents in a positive way, and to spread the gospel worldwide by making a change through their style of music.
'Vineyard Of Grace' was written by Lifted Joshua and dad, Dele Joshua, the song and piano arrangement was done by Lifted, the 30-second funky sax solo performed by Alice and the song was produced by MarcusInnerproductions. After realising that a lot of kids were falling into the negative footsteps initiated by friends and the social media, Lifted decided to write the song in order to redirect the attention back to positive influences and God. Download the song for free via http://bit.ly/vineyardofgrace.
Lifted who is the lead vocalist for the band has been playing the piano and singing for almost 5 years and Alice - the saxophone for 3 years. Liftedand Alice are both active students at the local Barking and Dagenham Community Music School , and are members of the DagenhamSongwriters Choir . Alice is also currently a member of the Junior Jazz band and Junior Contraband where she plays her Saxophone.
ALifted's debut album tagged, 'HOUSE OF JOSHUA PROJECT 1' comprises of 5 tracks (Co-written by Lifted, Alice and their mum, Joke). The 4 other tracks are, 'Glorious Cook' and 'What a Bliss' (both produced by MarcusInnerproductions), 'Prescence' (produced by Seyi Ademiju) and 'SAX Praise' (produced by Seun Oke).
Social networks:
Twitter: @aliftedmusic
Instagram: aliftedmusic
Facebook: aliftedmusic