Monalisa Chinda Goofs Around with Daughter (photo)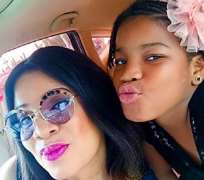 Most of Nigerian celebrities who are single mum are now giving more priorities to their child than finding another man into their lives but for actress, Monalisa Chinda, she knows how to share her love.
The actress despite married to another man is ensuring that her daughter does not feel her absent as she creates time to play with her while creating more time for the husband at night when she is asleep.
Monalisa turned TV host and her daughter goofed around after she picked her up from school and they look good together as nothing has kept her going like looking at her daughter and seeing how God has been good to her.