I am not RMD junior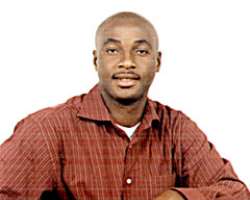 In as much as he desires stardom, he hates to be linked with another man's style. But handsome and fluent, Seye Johnson – Adejumo, an Abuja based broadcaster and actor has often been teased by friends and directors as Richard Mofe Damijo junior. They say he speaks and dresses like him. His dress style of a white caftan has also earned him the name Seye White. The comparison may not also be unconnected to the desire by film producers to find a replacement for the banned actors one of whom is RMD among the up-coming ones, but Seye, who, though loves RMD's carriage and great acting talent, says, " I want to be myself, I want to have my own styles, contrary to what people say after watching me on Domino, that I am RMD junior. We may look alike, talk alike or act alike, but I think I have my own styles. I am a different person. I am coming from a different angle and I know where I am going".
Johnson, acclaimed as one of the faster growing actors in Abuja is not new in the industry. His story is that of one staging a come back. And he seems to have found a good platform to do that, by playing the character of Steve, the club manager Tajudeen Adepetu's T.V. soap Domino, currently showing on the NTA, AIT network services.
His first appearance was in 2001 when he acted in Battle for the Princess a movie directed by Kalu Anya. Then, in year 2002 and 2003, he did Play Boy and Guilty As charged respectively. Both movies were directed by Aquilla Njamah. During the time and his resumption of acting, he has been working as a broadcaster with Rhythm F.M Abuja.
"I had left the print media to do my first film, Battle for the Princess in year 2001 and then the second and third one in 2002 and 2003 respectively. But as a mass communicator, I still could not abandon my training. Then, I decided to take a job with Silverbird Communication, not Rhythm F.M Abuja, which I did for two years. But then, the passion for the movie industry continues to grow. And as a perfectionist that I want to believe that I am, I realised that acting is all about staying in the industry and helping to make the desired changes. Coming back, too: I am so impressed that I almost regretted that I was away for a while because all my colleagues that I started with seems to have made the mark. But all the same, I am back for good," he said.
With renewed determination to succeed as an actor, Johnson, who hails from Osun Sate but also speaks Hausa and Nupe languages fluently, having been born in Kano State and educated in Niger and Kaduna states, is set to be a crossover artiste, but said, "I want to find my footing first in the English language movies. He has no doubt that the crop of directors he has had to work with are professionals who can bring his new aspiration to bear on the industry.
"I am impressed by the couple of directors I have worked with, especially on the soap I am doing right now. Domino, Mr Afolabi Adesanya, the NFC Managing Director, is a man who wants to bring the best out of me. He was the first to direct me on Domino, before Pat Ogri and now Kabat Esosa – Egbon. Afolabi Adesanya is one good director and cinematographer who studied abroad and is impartial. What is the special thing about Domino? "In Domino, we sit together and argue the scripts. We do this as one family, which is not so about most home video shoots. The professionalism is more pronounced in soap. Maybe also because, unlike the haste in the shooting of home videos, soaps are usually shot carefully, with enough time to implement the logic".
How did he get cast for his first movie role in Battle for the Princess? "I got auditioned and I passed. And it was quite challenging that I had to play the role of a doctor. I am family doctor to the king. I did not study Medicine but I needed to live that character as a doctor which I guess I did well and that movie, I must say, gave me an instant role in another movie: Silent Tears by Emem Isong. Seye, who says he is not eager to make money from movies as much as he is eager to be known as a good actor pointed out that his passion is for the job.