UNITED AND CONTINENTAL AIRLINES MERGER DEAL EXPECTED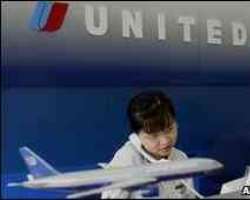 United has been looking for a merger partner for some time
US-based United Airlines and Continental Airlines are expected to announce a deal to merge later, creating the world's largest carrier.
United Airline's board met on Friday to vote on the deal, media reports from the US suggest, while Continental is said to have approved it on Sunday.
The deal, worth a reported $3bn (£2bn), would give the combined company the biggest share of the global market.
It will mark the latest move towards consolidation in the airline industry.
Last month, British Airways and Spanish flag-carrier Iberia agreed a merger to create a new European giant, International Airlines Group.
Older, more established carriers have looked to mergers as a way of reducing costs and improving their financial stability following recent heavy losses in the airline industry.
This latest deal will come after the breakdown of earlier talks between United Airlines and its rival US Airways.
Then, US Airways said that consolidation still represented the best course of action for the "fragmented" airline industry.
A merged United and Continental Airlines company would take around a 6% share of the international market, as well as more than 20% of the domestic US market.
Although billed as a merger of equals, the new company is expected to be headquartered in Chicago – United's home – and keep the United name at the expense of the Continental brand.