2011: DON'T OVERSTRETCH YOUR LUCK, JONATHAN CAUTIONED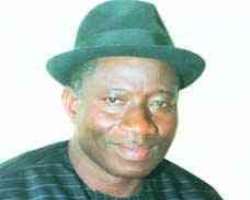 Gubernatorial hopeful in Edo State and Peoples Democratic Party chieftain, Kenneth Imasuangbon has urged the acting president, Dr Goodluck Jonathan to shun the entreaties of those calling on him to contest the 2011 presidential election.
Several groups including the Coalition for Greater Nigeria, have been calling on the acting president to throw his hat into the ring. His posters already adorn many public buildings in the Federal Capital Territory, Abuja.
Lending his voice to the admonition for refrain, Imasuangbon told journalists yesterday, that what is expected of the acting president is to play the role of an umpire, not a player so that his vow to ensure free and fair election would be achieved.
'He would be remembered in history as a leader who came in at the time of political interregnum and stabilized the system. Let him learn from General Abdulsalami Abubakar, former military president who piloted the 1999 transition to civil rule. He should forget it, he shouldn't overstretch his luck.
'Those calling on him to contest the 2011 presidency are the ones benefiting from his administration now, but he should be patient, his time would come,' Imasuangbon declared.
Speaking further, the PDP chieftain advised that nothing should be done to jettison the zoning arrangement in the PDP in order not to cause disaffection and ethnic distrust in the country.
'South should forget 2011 presidency. We should live by the gentleman agreement. It is the turn of the North, let them have their two terms,' he said.
Meanwhile, the Arewa Consultative Forum (ACF) has resolved towards uniting the North for it to be in a better position to present a common political agenda in 2011.
At a meeting held recently in Kaduna, participants were emphatic that nothing must be done to jettison the zoning arrangement between the North and the South on the basis of rotational presidency which the PDP had adopted since 1999.
A Daily Sun source disclosed that northern leaders who attended the meeting expressed their feelings over what they called attempts being made by some groups and individuals to seize the opportunity of President Yar'Adua's illness to short change the north and thereby prevent it from completing its term of eight years. They therefore warned that the North and its allies would resist such attempts.
Those who spoke at the conference also observed that some serving governors from the North are indifferent to the region's agitation for the 2011 presidency and resolved to checkmate tendencies that could lead to division within its ranks.
The Governor of Niger State and chairman of the 19 Northern Governors Forum, Muazu Babangida Aliyu had during the ACF 10th anniversary program last week in Kaduna kicked against the region's insistence on 2011 presidency.
Aliyu had called for concerted efforts across the geo political divide to shop for a candidate that can deliver democracy dividends to Nigerians, irrespective of his ethnic extraction.