See the beautiful actress, who is lamenting about her ex refusal to acknowledge their love child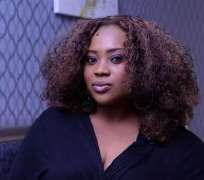 Aftermath of a broken relationship is not always nice most times. The scar of the pain gone through is always there as a reminder.
Everyone has a story to tell in one way or the other, nothing can be so painful for an innocent child to suffer for the hatred both parents feel towards each other.
If a relationship do not work out its fine to break up, but when a child is involved, he/she should be given the necessary love and care deserved even though both parents are not together.
Beautiful Nollywood actress, Alex Okoroji is going through something similar, as her ex, Omar Captain who is a Ghanaian actor is currently married with four kids and has refused to keep in touch or acknowledge her six year old son, who is said to be his birthday mate and splitting image.
In an interview with punch, the actress disclosed that up till date, the main reason for his negligence is unknown. She also hinted that she and her son have a smooth relationship with the Actor's recent family.
Though the actress didn't reveal what led to her marriage break-up with the Ghanaian actor, Omar Captan, but she claims she will never go back to him, even though he comes back.