Omotola Jalade Sad as Rainstorm Destroys her Event Centre?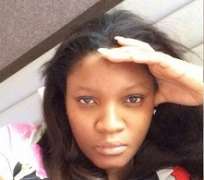 Nollywood actress, Omotola Jalade-Ekehinde, is currently biting her fingers as rumours have it that after spending several millions to startup her event centre at Ikeja, just about two months ago, the place has been brought down.
After several celebrations with the actress on her achievement in putting up such structure as an event centre, the constant rain experienced in the past few days has turned her story around after the event centre was destroyed by rainstorm.
According to Net, the event place crumbled after a torrential downpour some days ago. However, new reports have emerged that the event centre was brought down by those managing it just for renovation.

"On our visit to the event centre, another eye witness told our correspondent, 'egbon afefe ojo (rain) lo woo' (a heavy breeze crashed down the marquee).
It was also noticed that LASAA (Lagos State Advertising and Signage Agency) sticker was also noticed on the signboard that reads, 'Remove this sign.'