Jay Z Impressed with Tiwa Savage and Wants to Sign Her to Roc Nation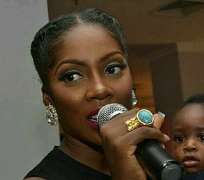 Tiwa Savage is getting the international recognition she deserves. Imagine her signing with the legendary Jay Z's music label- Roc Nation. Tiwa Savage is set to follow the ways of people like Davido who have signed recording deals with international record label.
Last year, one of Jay Z's cousins, Briant Biggs came to Nigeria for talent hunt and ended up meeting Tiwa "According Roc Nation sources, Jay Z, extremely impressed at Tiwa's catalogue and profile, gave the go-ahead for the deal yesterday, put together by Roc Nation's Briant Biggs and Shawn Pecas. So expect BIG things from Tiwa this year" A source revealed.
When this deal is wrapped up, we will be seeing Tiwa in another career dimension. Guess who she will be meeting at Roc Nation; Rihanna, Big Sean, DJ Khaled and many others. A collabo between Rihanna and Tiwa Savage can only be something that the world cannot stop talking about.
Meanwhile, Tiwa has been scheduled to perform at the Made in America concert this September, whose headliner will be Rihanna. Roc Nation has offices in New York, London and Los Angeles.