Tiwa Savage Takes Son, Jamil to Dubai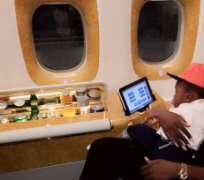 This trip to Dubai could have been complete if Tee Billz was still in the picture. This time, it is only Jamil and Tiwa Savage who travelled to the magical destination. It must have been hard for Tiwa who is going to have to do a lot of remembrance on this trip.
In 2013, Tee took Tiwa to Dubai and checked in one of the most expensive and fourth tallest hotel in the world, Burj Al Arab, Dubai. Tiwa was appreciative of this and they spent one week flexing. Even when they wanted to get married, they chose Dubai again. The estrange couple had planned to exchange marital vows inside a luxury boat called Super Yacht Yasmin, but the floating party boat was involved in an accident a week before their wedding which was why the couple settled for Armani Hotel.
Now that Tiwa is in Dubai, a lot of things must be going through her mind. It was in Dubai that her world changed forever and here she is with nostalgia of what she must have done with Tee here. We hope she gets fun the more this time around.