Davido and Sophia Momodu, are planning huge party for their daughter, Imade (Photos)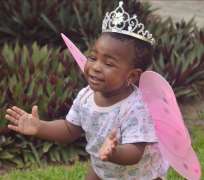 Yesterday, May 14, Davido and Sophia Momodu's daughter, Imade, clocked one year and the proud parents are planing a hug party for their bundle of joy today.
In the spirit of the celebration, they had showered the adorable baby girl with sweet words.
Regardless of the controversy surrounding the birth and custody of the baby girl, Davido and Sophia took to their respective Instagram pages to wish their daughter the best in life.
See what the excited mother wrote on her Instagram: "She was born to be the 'un-anxious' presence in the room.. It was love at 1st sight. It was everything all at once..the kind of love you never fall back from. Never try to. Never want to. A love so big, so strong, it never dies. Never fades, never loses its electricity. The kind of love you fight for. The kind of girl you go to war for. The kind of love you never want to get away... We are not perfect but we made something incredibly perfect for what is done in love is done well. I'm grateful & humbled that God trusted me with you, I will never take it for granted. #HappyBirthdayDaughter#AuroraImadeAdelekeIs1?"?
And Davido is excited also, he wrote; "Happy birthday princess Imade!!! Daddy loves you!!! Turn up!!".