9ice Signs New Act To His Record Label, Alapomeji Ancestral Records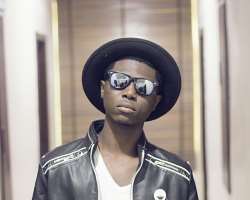 Nigerian singer, 9ice has unveiled a new artiste signed to his record label, Alapomeji Ancestral Records.
The artiste, who's known as 'Mikol', is the first act to be signed to the re-branded Afro-Pop musician's label, Alapomeji Ancestral Records.
The newly signed multi-talented and fast-rising star, born Tijani Micheal Ayobami, shows signs of promise to add spice to the Nigerian music industry, as the Lagos-born rising star ready to revolutionise the music industry and set a higher standard.
In his word, Mikol said, 'It's been long over due. We were supposed to have done the unveiling since 2015, but better done now.
Mikol has released his new single, Asiko Laye featuring 9ice with its video to drop in days and he's working on churning out some other songs in the coming weeks.
Speaking on his new single, Mikol stated: 'I have a single coming featuring Timaya. We just finished the recording.
Mikol claims he has loads of songs ready and his label will be focusing on releasing several music videos before the year runs out.
'We still have a lot of videos to put out this year. I have loads of songs that I have recorded'
9ice who changed the name of his record label from Alapomeji Records to Alapomeji Ancestral Records by adding 'Ancestral' to it is one of his strategies and he's again fully ready for the Nigerian music industry.
DOWNLOAD Asiko Laye:
https://soundcloud.com/user6170950/mikol-ft-9ice-asiko-laye