Exclusive Interview With Upcoming Artist Young King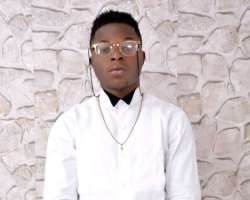 Ebuka Clement Kingsley is Young king an upcoming Artist, Young king is 5.6ft and has been doing music for a while now. This young man has been performing quite well mostly in Eastern State were he is popularly known.
What's you name?
Ebuka Kingsley Clement
What's your stage name?
Young King
What inspired your passion for music and who has been there supporting you from the beginning?
Honestly.. It starts when you are really young. And in my case that also makes you really different. I think I was five years old. And I wanted to join a famous children's
Instrumentalists for kids. It was on tv… but I was not allowed to because I was not living close enough to where it was recorded. So my mum got me kids Instrument in the neighbourhood
That was where it all started. I think when I was six I started playing the Drums. At that moment nothing really inspired me except that it has been a part of me for 20 years. Got much support from my parents and Friends .
Is music hard?
From my own perspective it's not, just give it all you've got.
Any challenges on releasing your singles?
Of course, you have to give your audience what they want to hear or else your own "chapter go finish". (Ending with a smile on his face)
We heard you have a lot of fans, is that right?
They are growing by the day and I thank God!
Where do you see yourself five years from now?
I think I see myself still being an artist but also work with others. I love to work with Superstars abd young talent.
Who have you always dreamt of working with and why?
How would you go about accomplishing this?
I would love to work with: 2face Davido Wizkid, Iyanya ,Flavour Many more . I hope they read this and call me haha.
I do not know how to accomplish that but… maybe we meet and I would definitely try to convince them.
As you are starting out your career in the music industry what steps do you plan on taking to reach your goal?
Well we have this first single. And I want to release some singles first before releasing a full album. I want people to get to know me. Doing some radio performances, gigs get to know my fans. I think you have to focus on the music and gigs and if that goes well and people love it. The rest follows.
From your experience so far, what have you found to be most challenging? And how are you dealing with it?
I think auditions. You know. I get pretty nervous doing them. Sometimes you read things and it is hard to let people judge. Not everybody is nice about you. I used to be a person who just wanted everybody to like him.But
you realise you never can please everyone.
From your experience in the entertainment industry what advice could you offer people looking to get where you are today?
Just stay true to yourself and know what kind of artist you want to be. Know what your message is, and know it is a lot of hard work.
Do you have any hidden talents?
Apart from music I can also play football but I have come to realize and understand that my passion is
in the music and not football.
Any Last Words To Your Fans ??
My last words to my fans are nothing more than just a big thank you to everybody who has been taking their time to download and share my music. I believe without each one of you i honestly can't be what i am today and i want you to keep on supporting Young King
music because you are the reason i do what i do. Always remember to keep the love, support and unity at 100, nothing less until nothing is left.
Interviewed By Austin