Buhari's Anti-Corruption Crusade: An Ill Wind That Will Blow No Good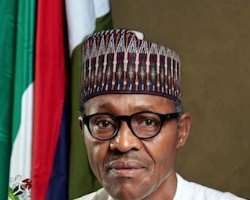 The recent arrest of a Lagos-based Lawyer and an ardent critic of Maj. Gen. Buhari's excesses by the EFCC is highly condemnable and outrageous. Though, I'm not really surprised by his arrest because when the foundation is allowed to be crooked, every super-structure erected on it is bound to be crooked too.
After Nigeria's transition to Civilian rule in 1999 with high hopes that things would change for better. Obasanjo announced an anti-corruption bill and consequently established an anti-graft commission. There were high hopes that the country would soon recover from the long years of military rule and the mess she found herself. Little did anybody know that Obasanjo's administration was going to be the worst thing since the creation of Nigeria. He set the country more than fifty years behind in many respect. His governors, appointees, including himself got loose and invaded public treasury like hungry locusts and finished the remaining part of what our founding fathers laboured for over the years. He did not only went on rampage against those who criticised him but created sovereign immunity for his cronies and his praise-singers thereby making them sacred cows. The Owu Ape made the EFCC to service the interests of the ruling elites and its political elites. His anti-corruption crusade thus became selective and eventually became perverted to serve political purposes.
Is it possible to follow the tenets of democracy without opposition in a state? Could progress be achieved and stability is maintained by a government in a state where opposition is oppressed?
There is need to wage war against corruption in order to put Nigeria on the global map of business-friendly nations that will earn the country prosperity. To do this, Maj. Gen. Buhari must remember that he requires the support of every Nigerian irrespective of tribe or political affiliation to successfully pilot the Nigerian State to a successful end.
But, sadly, the signs are ominous. The continuous incarceration of Olisa Metuh and Sambo Dasuki and the recent arrest of Ebun-Olu Adegboruwa are clear cases of witch-hunting, harassment, intimidation, growing level of impunity, abuse of the rule of law and flagrant violation of human rights are becoming very alarming and call for greater concern by all patriotic Nigerians, civil liberty organisation, the media and the international community to take note of. This is a bigger threat!
There seem to be some vendetta. We must advise the President correctly because we must face national lives. I cannot accept that human rights be subsumed under a war for corruption. Corruption should not just be the only sense of attention. If fighting corruption is the only attention that Buhari has, it would be at the detriment of infrastructural development.
The government should be awestruck on how young Nigerians of employable age are moving out of the country in droves; not just to seek economic succour, but because they no longer have confidence in an administration that has neglected its youths and could not guarantee them basic things of life. Part of the sheer anxiety is the spate of insecurity occasioned by pipeline vandalism by the Niger Delta Avengers, threats from the Fulani herdsmen and lack of clear-cut agenda to guarantee their future are becoming increasingly worrisome.
Nigeria is gradually returning to dictatorship. Nigeria is gradually drifting to dictatorship; lack of freedom of speech and press freedom. This time is intriguing and not interesting.
After evaluating Buhari's anti-corruption war in 9 months, I've realised that Buhari is engaging in sham and selective anti-graft war.
I want the President to prove the world that he really belongs to everybody. He is expected to address the challenges facing Nigeria in the areas of capital expenditure threat, debt spikings, savings stagnation, unemployment, exchange rate violatility, poor state of the economy, infrastructure deficit.
Buhari must at this time distance himself from sycophants around him, this is the tome to rise to the occasion and act as a true democrat, a detribilized leader with passion and vision.
Kazeem Olalekan Israel(GANI)
Member, Pacesetters Movement, OAU.
Disclaimer:

"The views/contents expressed in this article are the sole responsibility of the author(s) and do not necessarily reflect those of The Nigerian Voice. The Nigerian Voice will not be responsible or liable for any inaccurate or incorrect statements contained in this article."