Fans Blast Toke Makinwa Over 'Failed Toes Bleaching' (Photo)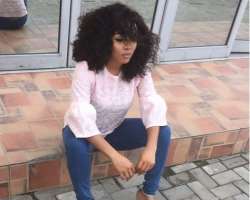 Although, she has adapted to thick skin against all sorts of harsh words thrown at her, controversial OAP and Vlogger, Toke Makinwa has provoked her fans again on social media with her recent photo.
Well, Toke has always been a subject on social media and this time she kept her Instagram followers busy cursing at her for allegedly failed 'toes bleaching'.
She posted a photo as she tries to promote a Top she got from Experience Zazali. In her post, she wrote "It's a wrap!!!!! Today was such a long day on the set of Moments. After 6 hours of radio….. We do this! Feeling like Erykah Badu here. Top from @experiencezazaii"
The vlogger got a lot reacting on her toes, see some screen shots below..