17-Year-Old Ajegunle Boy, Friday Presented Face Of Candy City 2015winner With A Realistic Portrait Of Her On Her Birthday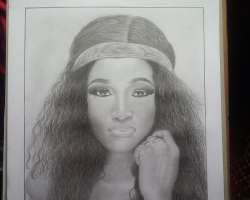 17 years old Ajegunle boy, Friday who is a student at Tolu complex ajegunle presented the winner of Face Of CandyCity 2015, Queen Sassy Somma a realistic portrait drawing on her Birthday dinner last night at Intercontinental hotel lagos.
Ajegunle is a neighbourhood located in the heart of Lagos, Lagos State. It is located in the Ajeromi-Ifelodun Local Government of Lagos. In the past few years, it has produced notable footballers and musicians, among whom are Samson Siasia, coach of Nigeria's Olympic Team, Biodun Obende who plays in Finland, Watford striker Odion Ighalo., former Super Eagles ace defender Taribo West and Emmanuel Amuneke, former African Footballer of the Year.
Ajegunle's uniqueness lies in the fact that it is a concentration of all the many ethnic groups in Nigeria. It is bordered on the west by Apapa Wharf and Tincan, two of Nigeria's biggest sea ports from where over 70 percent of imported goods come into the country.