9 Years After: Kenneth Okonkwo's 2nd Wife Delivers Baby Boy (Photos)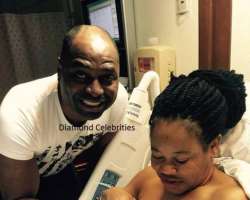 Nine years after he took another wife, Nollywood actor, Kenneth Okonkwo and his pretty wife Ifeoma have welcomed their first child.
It was gathered that their baby boy was born at the University of Maryland, St. Joseph Medical Center, USA on Friday, May 6, 2016.
The excited father was short words, as he keeps giving all praises to God.
"God is a faithful God. He said we shall be fruitful and multiply, that there shall be none barren in our midst and He just fulfilled His words. To Him be all the glory in Jesus name", he was quoted to have said.
The Enugu State born movie star also thanked all those who stood by them and offered prayers to God on their behalf.