Nollywood Actress Foluke Daramola Confesses To Making More Money From Social Media Feuds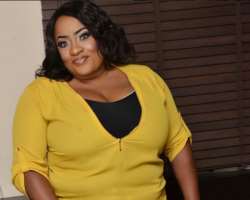 BEVERLY HILLS, May 09, (THEWILL) – Newlywed Nollywood actress Foluke Daramola-Salako was embroiled in a full-on social media spat with a followers last week after she shared her views on gender equality on her Instagram page saying the role of a man and a woman is not the same as men are meant to be the head while women should submit to them.
Many did not agree with her opinion and made it known to her with some going as far as throwing insults her way. However, the buxom actress refused to apologize for her opinion and went head to head with fans trading insults.
Speaking to Saturday Beats on the issue, Foluke said:  "What got me upset was the fact that there are some things people talk about but they are not able to back it up with facts. When you say gender equality, the role of a man can never be de-emphasised to the role of a woman. That is why Hillary and Bill Clinton cannot be the president of the US at the same time. Bill Clinton had to teach her the grinds and she followed suit. The bible says that the man would love the woman and she would submit and respect the man. That position can never be overemphasised. I just wanted to drive some message home but later on, I felt it was not really worth it. When you have a bad mindset, there is no how another person can change it. My own position as a gender-based activist is not for the woman to be competing with the man but to complement him. In the scheme of things, the man would always be the head and the woman would be the neck. It does not mean that the woman cannot turn the head to whatever direction she feels like."
According to her, she intentionally created the furor because such buzz strengthens her brand and in turn fetches her more money.
She said that unknown to many, she intentionally created the crisis because such rancor actually strengthens her brand and fetch her more money.
"The backlash is nothing to me, I just wanted to drive home a point. My own stand point is that of most reasonable women. Take for instance, Omotola Jalade has come a long way and she has been able to keep her home. It is just because she has a little bit of feminism in her. She has been able to balance her home and her career and that is why she has been successful. At the end of the day when people are talking, they should be able to think deeply and not just talk from the surface. The funny thing is that things like that increase my fan base. If there was no conflict, no one would go to my page to find out what is going on. It makes my account more active and the more the merrier for me. Don't forget that I am a brand, when things like that happen, it is more money for me. It is an advantage to me. The reason I actually answered was because I wanted to create a crisis. When Foluke talks, everyone would want to know what is happening and that is what makes the world more interesting."
Read on here