I'm not dating any man because I don't want to- Marian 'Mimi' Aligbe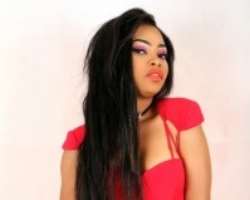 Lawyer turned model,Marian 'Mimi' Aligbe is ready to rule the Nigerian entertainment industry.
She is one lady who has admitted that she has been tempted severally to go overboard in the quest of getting something done but she resisted.
When it comes to female entertainers, a lot of Nigerians will want to know if she is married or single. Mimi reveals "I'm not dating, because I don't want to. I just want to pursue my career for now. Being in a relationship now will be a distraction, so it's one step at a time for me. It has nothing to do with my experiences in previous affairs. I've actually never been heartbroken before, I've been in a relationship before but I ended it not because of my career but because I just got tired."
She also confirmed that there is harassment in the entertainment industry "I think it's true. A friend of mine actually dated a marketer in order to get a role in a movie. Seriously, it is not the best thing to do. It's not even certain that the marketer would help you get the role. There is no signed contract or document so you might just be cheated. I would rather just wait and get things done in the right way.