Duchess Of Cambridge Kate Lands Her First Magazine Cover For Vogue Uk 100th Anniversary Issue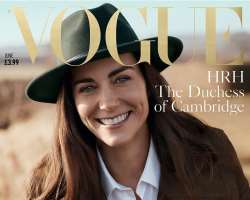 BEVERLY HILLS, May 06, (THEWILL) – The centenary issue of British Vogue is out, and with it brings 460 pages of inspiration, reflection and ground-breaking fashion shoots.
From looking back at the trends of the last 10 decades to predicting what the future of fashion holds, this special collector's issue celebrates friends and photographers of the magazine, past and present, who have contributed to its rich and long-lasting legacy.
On the cover of this special issue is none other than HRH the Duchess of Cambridge, Kate Middleton in one of an exclusive series of portraits by Josh Olins.
Speaking on her Vogue experience with Vogue editor-in-chief Alexandra Shulman, the Duchess said: "From taking photographs of George and Charlotte, I have been struck by the wonderful lack of self-consciousness that you see in photographs of children, without the self-awareness that adults generally feel."
See more portraits of her below!