Uche Jombo with Hubby Love Up on the Beach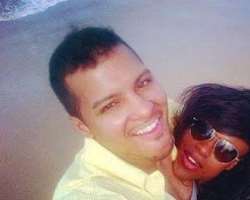 Nollywood actress, Uche Jombo Rodriguez, knows how to send hearts melting with the way she continues to express her love for her hubby.
The actress is gradually becoming one celeb many will want to look up to with the way she has been able to manage her home combined with her job which is very demanding.
She is tested her fair share of her break and waiting on the Lord, brought her a good man who who has built a strong tent around her and showed her what true love is all about. Recently, the actress and her hubby had a fun time together at the beach and she felt it was right for haters to see the hand of God in her home.