Tekno Shy of New Hairstyle, Begs not to be Insulted (photo)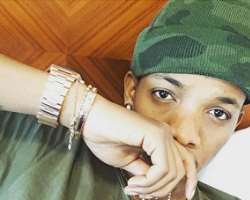 Tripple MG signee, Tekno, has received several backlash from his fans in recent time sometimes due to misconception or rumour about his personality but whatever the case, he seems to listen to advice when given to him.
The singer recently stepped out with a new hair style which he sure knows will get everyone talking but he immediately begged that his fans should not insult him over the hair.
Tekno now going on mini braids, stated that he just wants to ensure that his hair grows fine that is why he had to result into braiding it.
In his words, "Pleases don't chat shit. This is just for my hair to grow faster, thank you."