My Billionaire Father Says I am on My Own- Demola Adedoyin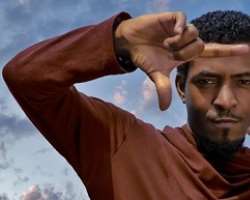 Demola Adedoyin came into limelight when we saw him in Kunle Afolayan's October 1. Adedoyin who is the son of billionaire Chief Samuel Adedoyin recently got a nomination for an award in Atlanta, USA, for his role in the movie Couple of days by Tolu Totana, that came out this February. However, his father has told him he is on his own as an entertainer.
Will Demola drop acting and join his father in his investment? "Anything is possible. My mind is open, my heart is open. I have a lot of different kinds of training. I have worked for my father before. So, I know how certain aspect of the business functions especially the real estate aspect of what we do. I think anything is possible." He said.
With his father's wealth, a lot of people believe that he doesn't have anything lacking around him. But this is not true. "Not really. I think it has made it more difficult. People think you are okay. People think you don't need help. You don't need to be paid even if you work with them because they feel you are just okay. Your dad is wealthy, he is there for you all the time. They believe you don't need help of any kind from anybody."
He then added "Funny enough, my dad has told me I am on my own. That's it. He gave me his blessing and said, I was on my own."