Some Celebrities are Never Truthful to Themselves…Yemi Alade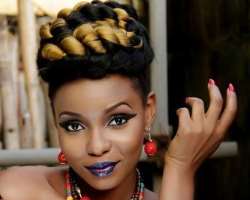 Hmm, some Nigerian celebs are beginning to throw shades at each other without mentioning names though.
Singer, Yemi Alade, has got some messages for some of her colleagues who likes to show off money, cars, houses and other expensive things on social media.
According to her, some foreign celebs who have made it to the Forbes five; Hip Hop Wealthiest Artiste list, never attained the height do not share their wealth on social media but made their living silently without people knowing how much they make or number of cars and house they have.
In her words, "It's clear from their Net worth,that becoming anything ,especially being SUCCESSFUL is a step by step process. Drake just got on the forbes list as number 5, but staying there and climbing up the list yet another journey.
"I'm just saying, even when you become successful, aim for over successful it don't stop. P's. .celebs post pics of expensive cars and houses but no one posts the bills these houses and cars in cure over time! (!millions of currency). Don't be a victim of TV fairytale, stay true to your reality."