Throwback Picture of Tee Billz Eating Pepper Soup Prepared by Tiwa Savage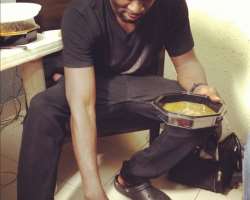 We all heard that Tiwa Savage refused to cook for her husband from the mouth of Tee Billz, himself. He said that it was over three years that she ever thought of cooking for him. However, a picture just showed up that has proven this accusation false.
A throwback photo of Teebillz enjoying pepper soup prepared by Tiwa Savage is the picture we are talking about. He revealed on social media that Tiwa, was more concerned about music and making money rather than focusing on their home which forced him into eating from a neighbour and some celebrity friends.
"Tosin Yosuf aka Omawunmi's husband. I wish I met you earlier when I just moved to Nigeria. You have been a great friend and brother to me in the last month. I should have done this 2weeks ago but the joy of being around dint let me. You have a wife that did not let the music business take the best of her. I know how Mrs Yusuf treats us when we at your house. I feel very at home and praying that I wish my wife can get a life and be like this. All she cares about is next single, her makeup and hair, her brand and all that BS. Pls tell the world have you asked your husband in the last 3yrs if he has eaten. Thank you to Ani Idibia and Anita my Neigbor that provides home cooked meal for me when I needed. " he has claimed.