Mike Godson's Fake Drivers License Exposed (photo)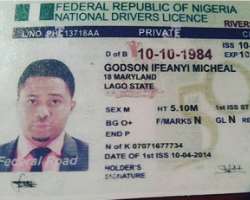 Nollywood actor, Mike Godson, is not happy with the way fraudsters have device alternative means of duping innocent Nigerians.
The actor along with some of his colleagues have not escaped the axe of internet fraudsters as they continue to unveil new means of getting relevance and recently there was new twist.
Mike's fake drivers license was made and was used to create a social media account seeking whom to devour with some already falling victims.
The actor came out top shout to those interested to listen to him that he is not on all social media and fans should be careful of people they follow all in the name of following a celebrity.