'I Love You To Death'- Kaffy's Hubby Goes All Romantic To Celebrate His Woman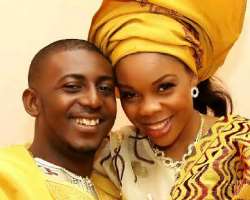 In the midst of celebrity marriage crisis, the young and handsome husband of famous dancer, Kaffy, has decided to let the world know he loves his wife so much and not ready to share her with anyone.
?Papii Ameh, the drummer and instrumentalist has been showering his wife and mother of his two lovely kids with sweet words, every woman craves to hear all the time.
"When you talk about a virtues woman this is exactly who you are referring to. Words cannot explain how much you mean to me, the only woman in the world that can tolerate all my BS and still call me baby with all the love in your eyes. I won't be where I am if you didn't kill yourself to make sure my dreams come to life. I celebrate you, I thank YHVH for giving you to me because you are a gift from above. Look at the two adorable Lil J and Lil hoodie k that you gave me. The way they are growing up fast and beautiful is just a reflection of how you are. Like I said before, words have failed me at this point... I love you to death and I appreciate every day that you bear my name- Kaffy Dancey." he wrote.
The excited husband and proud dad, also added that his haters should go on hating, while he would continue to love his wife, like no other
"Dam look at that body... Hi haters I'm sorry but she's mine, if you got it flaunt it and this woman right here is worth more than a G6 or a Bugatti so why not flaunt her... If you don't have love in your life all I can do is pray that you find it else you are totally ignorant to my knowledge of its power... He that findeth a wife findeth a good thing and obtaineth favor from the Lord... Keep hating, it makes us stronger, keep wishing us evil, YHVH is our protection, I said I do in public, so what do you think? Because i'm going to sing to the world how much I love you babiii initial, kaffy Dance you rock jare.."