Shiites attacked my convoy with petrol bombs: Burutai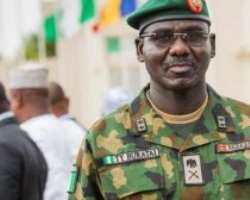 The Chief of Army Staff, Lieutenant General Tukur Buratai,  has revealed that members of the Islamic Movement in Nigeria, who belong to the Shiites movement, in the face-off with the Army in Zaria, Kaduna State in December 2015, made use of petrol bombs.
Burutai dismissed the notion  there was a premeditated murder of some of the sect's members as being bandied about by some groups, such as Amnesty International.
The army chief who spoke when he received in audience the Executive Secretary of the Centre for Crisis Communication, Air Commodore Yusuf Anas (rtd), said on the contrary it was the sect members who precipitated the clash by attacking the soldiers with petrol bomb.
Anas had  led the management of the centre to pay Burutai a courtesy visit in his office.
Burutai said,  "How can anybody accuse a responsible armed agency of government of murder?
"On the contrary, the people were attacking the soldiers with petroleum bomb and other weapons.
"In actual fact, not all of them knew how to handle Molotov they were trying to use against the Army and it back fired on them."Buratai stated that the troops of the Nigerian Army are gallant patriots who have the interest of the corporate existence and integrity of the Nigerian state at heart and have sworn to do anything and everything possible, including laying down their lives, in order to the defend the country.
Buratai said: "The Army will henceforth ensure that gallant soldiers who die in action are given a publicized befitting burial with full military honours.
"In fact, even if it means conducting it in arrears, we will ensure that our fallen heroes are given befitting national burials.
"Aside from that, we have also ensured that immediate family members of our fallen officers and soldiers receive prompt payment of all their entitlements and other welfare supports."
The Chief of Army Staff  also promised that gallant officers and men of the Nigerian Army who died in the course of prosecuting the ongoing war on terror or in any theatre of operation are not and will never be forgotten.
He charged every patriotic Nigeria citizen to do whatever he or she can do to ensure the safety and progress of the country.
Earlier in his remarks, Anas commended the Nigerian Army for its unwavering commitment to the defence of the country from external aggression and internal insurrection.
He said: "We have noted significant successes in the fight against terror since you mounted the saddle of leadership of this great Army and we are happy to say that you have acquitted yourself creditably so far."
Anas also commended that public relations and information management of the Army, noting that it has been very vibrant.