Still On Fulani Herdsmen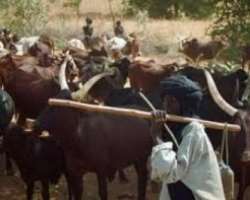 The so called Fulani herdsmen have struck deep in the heart of the South hitting the serene state of Enugu and Nigerians are left to ask, what manner of herdsmen are these marauders? Armed with AK-47s and M-16s these criminals unleashed hell on a small farming community killing scores of innocent men and women as well as burning down a church. And the media calls these barbarians herdsmen. Well if it walks like a duck, talks like a duck and swims like a duck then it is obviously a duck.
What manner of herdsmen invade a community in their hundreds armed to the teeth killing innocent women and children then burn down places of worship? What manner of herdsmen have the guile to evaded the security dragnet of the state when the South-East is one of the most policed zones in the nation with a police check point existing at every 4km of Federal Road?
Only Boko Haram has shown such ubiquitous nature and with the Army's successes in the North-East this terrorist network has decided to project themselves away from their base of operations. For years Boko Haram has masqueraded as.
Fulani Herdsmen using rustled cattle to fund their operations. An escalation in violence was noted after the Market for Cattle in Borno was closed to stem the tide of Boko Haram using this facility to fund their operations. Hence one can easily project that these forces have decided to project their will elsewhere. To think the Enugu invasion is just mere Fulani rustlers looking for pasture is indeed foolhardy especially when one did not see any cows leading the charge.
This was a typical hit and run attack that Boko Haram specializes in. But to imagine that Boko Haram has finally spread its tentacles downsouth is one thought many are too scared to contemplate and feel safer calling this quacking duck Fulani Herdsmen. But we are left asking what manner of herdsmen can unleash such mayhem and fade away into the night without a trace and no sign of the so called cows they slaughter people for moaning in the background.
There is a great intelligence failure on the part of the regime to allow such carnage by this reincarnated Boko Haram terrorists. Indeed the terrorists have opened up a new front in their war of attrition against the Nigerian State. Obviously this is a ploy to divide the nation's forces so that dedicated troops battling to secure the North East will have to be channeled towards the South. It is sad that the Presidency is yet to unleash a robust response as the nation battles from one crisis to another. For a regime that promised so much, its been bogged down by one crisis after another.
From an unnecessary delay in forming a cabinet, to the disastrous budget saga and now a crippling fuel scarcity that has strangulated the nation's economy amidst a dire foreign exchange squeeze. The only success story of this regime has been its zeal to secure the nation against Boko Haram and now even that is under threat as these so called Herdsmen unleash hell in the South.
President Buhari should wake up and smell the roses as his honeymoon period comes to an end as he approaches one year in office. Promises do not ride a horse into battle only valiant soldiers have that honour. Until he quashes this threat with extreme prejudice his sojourn as a leader will be as chequered as his predecessor. The days of talk are over. The Desert Fox must be dispatched to track down and eliminate these terrorists immediately.
Anything short of that is an admission of defeat or collusion. Nigeria is greater than any individual and we have a right to exist in peace. Any criminal who wishes to deny us of that right be they Fulani Herdsmen or Boko Haram, does not deserve to roam the streets of the nation free. The time to act is now or is one waiting for another massacre to understand that the excrement has finally hit the proverbial fan with all before it covered in human waste?
End the reign of these marauders now or expect a huge backlash from millions of Nigerians who are tired of such senseless violence.
Usman Mohammed.
Department of Mass Communication,
Ibrahim Badamasi Babangida University,
Lapai-Niger State. 07060815443
Disclaimer:

"The views/contents expressed in this article are the sole responsibility of the author(s) and do not necessarily reflect those of The Nigerian Voice. The Nigerian Voice will not be responsible or liable for any inaccurate or incorrect statements contained in this article."