I will Continue to Go out With Older Women…Aremu Afolayan Brags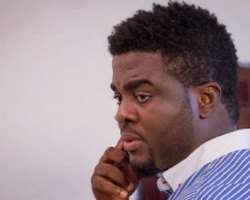 Younger brother to popular Nollywood actor, Kunle Afolayan, Aremu Afolayan, has come out to refute rumours that he goes out with married women.
The actor and producer stated that he has his life to live and he does not owe anybody any explanation as to how he does his things.
He stated that if people are accusing him of going out with older women, then he wouldn't have sold his three cars just to raise money to produce his movie worth N16 million.
"They said I'm a gigolo right? I owe no one any explanation for the way I live my life. They can criticize my film, but not my life.
They said I do rich women for money, how I wish I can do that because a gigolo don't get broke like this. If I'm a gigolo I will never sell my properties to do a film of N16m. I sold three of my cars to raise the money. I am not what people think I am. I love ladies that are older than me.
It's my business because I don't find the good thing, the real love and happiness from the young chaps. Can you imagine a situation where I sleep with my girl now and she will go and sleep with one yahoo boy or my daddy's friend again because she needs money?
So, I have to follow someone who is not a girl as they say, but a lady that is at least older than me. This is what I like. My life, not their life. So, that's no one's business. You see, I owe no one any explanation concerning this. I can only explain to God and until He comes, I can continue," he told Yes magazine.