Flavour marries Sandra Okagbue in Secret?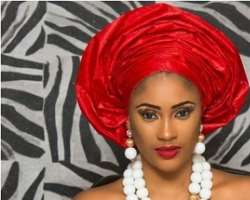 Don't tell us that Flavour has finally gotten married in secret. It seems that Flavour had gone out of his way to marry his first baby mama, Sandra Okagbue. It has been Sandra on the spotlight until he met Anna, who has given birth to another babygirl for him. All these days, we have been seeing Anna and her baby girl floating all over the singer.
Even during his dad's birthday, there was no sign of Sandra. Few hours ago, Sandra has sparked a rumour that she was married in the traditional way. She didn't say to who neither did she give us other pictures of a wedding to see.
Sandra looked so pretty in a red off shoulder traditional attire and beads that only brides could wear. To make the rumour fly,Flavour's official photographer also shared the same picture with a number of wedding hashtags.
Last year December, this wedding rumour between the pair came up but Flavour denied it and claimed he was single. This time, what is he going to say about this secret wedding?