Rita Dominic And Chidi Mokeme Caught In Bed (photo)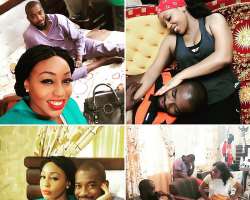 While some celebrity marriages are at the verge of hitting the rocks, some others are beginning theirs, but in a coded way.
Delectable Nollywood actress, Rita Dominic, has been caught in bed with handsome actor, Chidi Mokeme.
The two super stars where seem smiling together in the bedroom of a hotel where they are presently shooting a movie produced by Chico Ejiro. The title of the movie is not known yet, but it is surly going to worth the wait.
Chidi Mokeme is a happily married actor, while Ms Dominic is sweetly single and happy about her status.