Toby Grey bids farewell!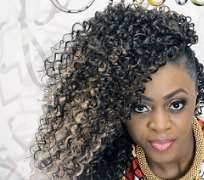 Fast rising artiste Toby Grey has just bidden farewell to her record label. The artiste shot to limelight with the cover of Woju, a hit song by kiss Daniel.
The diva was said to have parted ways with her management company ScoopNaija after just one year of working together.
The problem allegedly began when the artiste released a new single Malaro and her management logo was missing. This reportedly made the management ask questions on why such was done.
Report has it that, the singer's career was being funded by her mum, and that has made the mum dominated in most decisions concerning her career, which mostly deprives the management from carrying out their rightful duty.
When the CEO of her management was contacted by NET, he had this to say: "Her mum has not been helping matters at all. Fine she's the one funding her daughter's career but when I raised the issue that our logo was missing in the new artwork she called me to ask what really the role of a management company is".
Clearing the air formerly, he said: "This is to announce that ScoopNaija the former management of upcoming singer Toby Grey is no longer in business with the upcoming singer. We regret to announce this but certain measures had to be taken in the light of new developments that have since made the working relationship between both parties uncomfortable. Thanks for your continued support. We wish her all the best in her current and future endeavors."
Spilling more beans, the CEO, Omoboriowo said: "I'm not saying much, since that's the way they want to do it, let them just pay me all the money they owe me, which is about N620, 000. This is excluding the N25,000 I spent every night during her last tour of 8 clubs in Lagos."