Tiwa Savage Has Not Cooked for Me in the Last 3 Years…Teebillz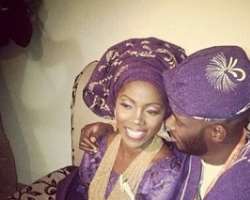 The year 2016 really started in a bad note for some Nigerian celebs and the trend of issues has been going on without any atom of ending. While one issue is ending, another is emanating and no signs of cooling off.
It started with olamide and Don Jazzy, then Davido and babymama saga, P-Square and the list is endless. These misunderstanding have continually begged for solutions but it seems everything has been under patching.
The latest in the news now is in the home of singer, Tiwa Savage and her husband Teebilz. Not many knew that all was not well with the duo until some recent message from Teebillz announcing that he plans to commit suicide.
Teebillz has been giving a lot of secrets and dirty things he alleges his wife has been doing which he knew about and has been tolerating all along.
He even went as far as comparing singer Omawunmi, whom he says is very homely compared to his wife who finds delight in her wealth than her home.
According to him, "Tosin Yusuf aka Omawunmi's husband. I wish I met you earlier when I just moved to Nigeria. You have been a great friend and brother to me in the last month. I should have done this 2weeks ago but the joy of being around didn't let me. You have a wife that did not let the music business take the best of her. I know how Mrs Yusuf treats us when we are at your house. I feel very at home and praying that I wish my wife can get a life and be like this. All she cares about is next single, her makeup and hair, her brand and all that BS. Please tell the world have you asked your husband in the last 3yrs if he has eaten. Thank you to Ani Idibia and Anita my neighbour that provides home cooked meal for me when I needed. That! Yes you became the bread winner when I decided I'm not in business with you again take everything I just want my wife. Tiwa. You will never have peace except my spirits forgives you. Tell your mother to confess what she mounted in the house for you to shine with my star. It's deeper than what you think."
These is still happening like a season film and many are still wondering what exactly is going on with the two lovers.