Rumour Fixed! Mercy Aigbe-Gentry Is Not In Police Cell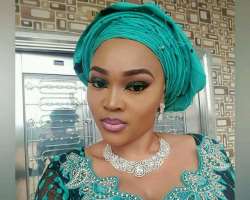 Most of us never knew what happened last night, while most fans were asleep, some were awake because of Mercy Aigbe-Gentry, who was alleged to have been arrested in Oshogbo, Nigeria and taken in police custody. There were several reports about that and confusion hit her fans.
The award-winning actress is currently on set for 'Ayanmo', a new movie by actress-filmmaker Yewande Adekoya. It was here that she was said to arrested by 'heavily armed' policemen at the Olaiya Junction area of Osogbo, Osun State. There was another report that some policemen had fired three gunshots into the air before whisking the actress and her brother, who drove her in a Honda Accord car, away to an unknown place.
However, these reports may not be true as Mercy has calmed everyone with this message "...And it's a wrap for today! Work continues tomorrow...Tired much!..#lifeofanactress...Sweetdreams Fam!"
It was reported that her presence had attracted large crowd at the ever-busy Orita-Olaiya, which nearly led to the policemen being mobbed. This forced Mercy to make a lot of calls according to eyewitnesses. ASP Egbedele, the assistant Police Public Relations Office, PPRO, Osun state Police command, explained that the matter was a minor traffic issue, adding that it has been settled.